Projectbasedlearning
Project, Problem, and Inquiry-Based Learning. What are problem, project, and inquiry based learning?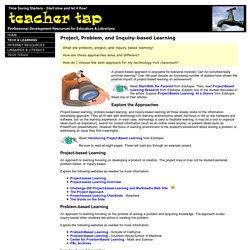 How are these approaches alike and different? How do I choose the best approach for my technology-rich classroom? Creative License: Using Art as a Medium for a Well-Rounded Educa. At the Oxbow School, the arts and research magically interweave.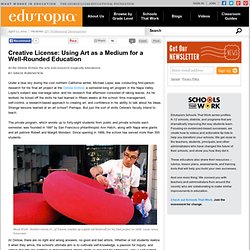 Under a blue sky during the cool northern California winter, Michael Lopez was conducting first-person research for his final art project at the Oxbow School, a semester-long art program in the Napa Valley. Lopez's subject was low-wage labor, and his research that afternoon consisted of raking leaves. As he worked, he ticked off the skills he had learned in fifteen weeks at the school: time management, self-control, a research-based approach to creating art, and confidence in his ability to talk about his ideas.
Start with the Pyramid: Real-World Issues Motivate Students | Ed. Concrete, authentic project-based learning helps students illustrate core knowledge.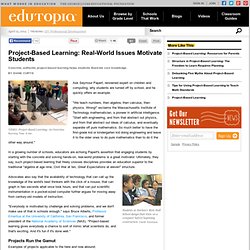 VIDEO: Project-Based Learning: An Overview Running Time: 9 min. Ask Seymour Papert, renowned expert on children and computing, why students are turned off by school, and he quickly offers an example: "We teach numbers, then algebra, then calculus, then physics. Wrong! "
---