Benchmark
Free GPS Navigation with Turn by Turn - Waze. PhantomAlert.com: No More Speeding Tickets - Home. Avertisseur de radars fixes et mobiles ou de zones à risques pour téléphone portable. Rester connecté avec ses proches quelque soit l'endroit ou ils se trouvent Vous pouvez a partir de l'interface web ajouter vos amis à partir de leur adresse Email.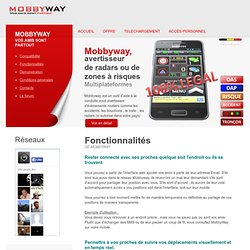 S'ils sont eux aussi dans le réseau Mobbyway, ils recevront un mail leur demandant s'ils sont d'accord pour partager leur position avec vous. S'ils sont d'accord , ils auront de leur coté automatiquement accès a vos positions soit dans l'interface, soit sur leur mobile. Speed camera detector for iPhone. INRIX® Traffic | Get There. Faster. Avertisseur de radar : les applis Android et iPhone en test : Introduction. Depuis une décision prise en mai 2011 par Claude Guéant, ministre de l'Intérieur, les appareils et applications antiradars ne sont plus : place désormais aux « assistants d'aide à la conduite et de zones de danger ».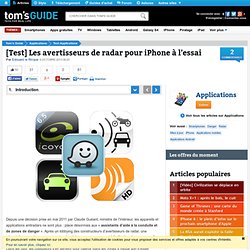 Après un lobbying des constructeurs d'avertisseurs de radar, une négociation avec le gouvernement a abouti à un consensus quant à l'utilisation de ces appareils « d'aide à la conduite » dont la volonté affichée est de « réduire le nombre de victimes de la route ». Dans les faits, les utilisateurs s'en servent pour ralentir dans les zones à risque afin d'éviter d'éventuelles amendes voire réductions de points. Trapster. Zorro GPS Nav Software Debuts on the iPhone. Waze Community Surpasses 2.2m Drivers. 0inShare Click to enlarge "social driving app" Waze is currently experiencing exponential growth, announcing today a new milestone with 2.2 million drivers in its community. 250 Million kilometers have been traced by Waze users which are spending nearly 300 minutes a month with the application on.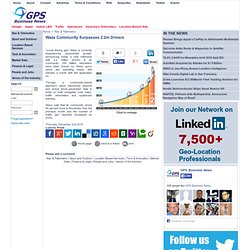 Through a community-based approach, waze harnesses passive and active driver-generated data in order to build navigable road maps, traffic information and speedcam warning. Waze said that its community drove 54 percent more in November than the previous month and the number of traffic jam reported increased by 274%. ESCORT PND Uses deCarta SDK, NAVTEQ Maps. Orange Maps (France) Gets Wikango Speedcam Warnings. Cobra iRadar. Description iRadar Takes Detection to the Cloud!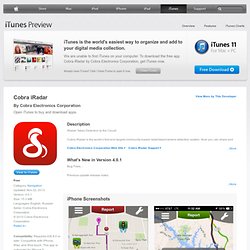 Cobra iRadar is the world's first and largest community-based radar/laser/camera detection system. Cobra to Add Crowdsourcing to iRadar Detector. 0inShare This week at the Consumer Electronics show in Las Vegas Cobra announced the upcoming release of a new crowdsourced database enhancement to the Cobra iRadar smart detection system.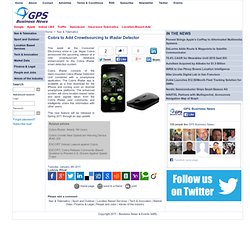 Cobra iRadar consists of the dash-mounted Cobra iRadar Detection Unit combined with a smartphone application. The Cobra iRadar app is available as a free download for the iPhone and coming soon on Android smartphone platforms. The enhanced system will store location-based radar and laser signals taken from the Cobra iRadar user community and intelligently share this information with other users. RoadPilot Adds US, Australia & NZ to Speedcam Database.
0inShare United Kingdom-based RoadPilot Limited has expanded its database of GPS speed camera locations, adding sites in Australia, New Zealand and the USA.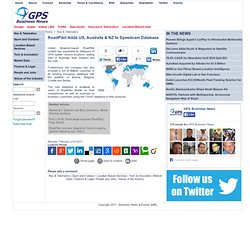 Furthermore, the company has also included a set of Balkan countries to its existing European database with the addition of Bosnia, Bulgaria, Croatia and Serbia. The new database is available to users of RoadPilot Mobile on their smartphones as well as business to business customers using the "Omni" database in their products.
Related articles. NAVIGON Offers Optional US Safety Cam in New iPhone App. Speedcam Warning App Hot in Germany. Waze Updates App with Gas Prices in the U.S. "Blitzer.de" für iPhone 3G, iPhone 3GS, iPhone 4, iPhone 4S, iPad Wi-Fi + 3G, iPad 2 Wi-Fi + 3G und iPad Wi-Fi + 4G im iTunes App Store. Beschreibung Mit Blitzer.de wird Ihr iPhone zum perfekten Blitzerwarner!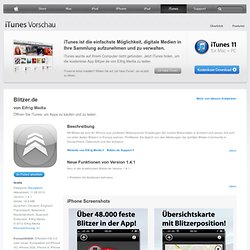 Empfangen Sie mobile Blitzerdaten in Echtzeit und lassen Sie sich vor allen festen Blitzern in Europa warnen. Profitieren Sie täglich von den Meldungen der größten Blitzer-Community in Deutschland, Österreich und der Schweiz. TomTom Speed Cameras UK/IE for iPhone 3GS, iPhone 4, iPhone 4S, iPad Wi-Fi + 3G, iPad 2 Wi-Fi + 3G and iPad Wi-Fi + 4G on the iTunes App Store. Description Your Journey… Safer and Better Informed.SIGN UP NOW FOR A FREE 12 MONTHS SUBSCRIPTION!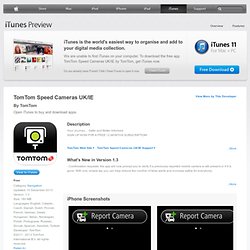 More and more drivers are hit by costly speeding fines each year. That's why knowing where the speed cameras are doesn't just make driving safer - it's better for your wallet too. The TomTom Speed Cameras app gives you advanced warnings on 95% of all fixed speed cameras. Mobile - Orange. Radars. Wikango. Eco & Logic - L'étude comportementale de conduite - La géolocalisation avec Eco & Logic - iStar et FleetEco. Parce que nous ne sommes pas tous des informaticiens de formation, nous avons voulu faire une plateforme intuitive et facile d'utilisation.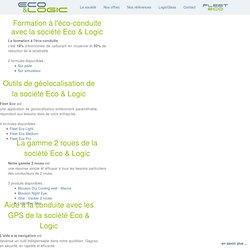 Voir vos véhicules, faire vos paramétrages de rapport ou/et d'alarmes deviendra un jeu d'enfant. Une formation à l'utilisation de toutes les options vous sera dispensée et notre support technique vous viendra en aide à la moindre question. Laissez-vous guider en toute simplicité !! Retour au menu Fleet Eco Light contient : Suivi temps réel des véhicules, personnes et objets. Mobiradars : Avertisseur de Radars communautaire Français - iPhone 3G/3Gs. Road Angel - Getting you there safely. Système collaboratif, gratuit et légal pour signaler les radars sur téléphones mobiles. FoxyTag est un système collaboratif, gratuit et légal pour signaler les radars sur téléphones mobiles.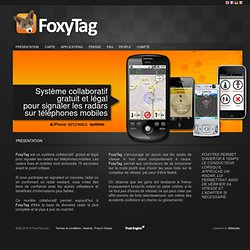 Les radars fixes et mobiles sont annoncés 15 secondes avant le point critique. Si vous participez en signalant un nouveau radar ou en confirmant un radar existant, vous créez des liens de confiance avec les autres utilisateurs et bénéficiez d'informations plus fiables. Swiss-Traffic - Informations Routières sur votre Mobile. Radars, Trafic, Contrôles. Swedish Speedcams. Swedish Speedcams in English Welcome to this site that is primarily covering Swedish speedcams. This page is a very short and simplified English version of this site. Index. Pour ma part, je ne souhaite pas investir dans un abonnement, l'application Avertinoo est une bonne alternative à iCoyote.
La taille de la communauté de cette dernière est peu être légèrement inferieure à celle de Coyote mais ce n'est pas flagrant non plus, à certains endroits, l'inverse est aussi constaté. De plus au contraire d'iCoyotte, Avertinoo indique le nombre d'ouvreurs circulant réellement sur votre route secondaire, seule indication fiable sur la surveillance au non de la route que vous empruntez. Dossier : Avertisseurs de radars sur iPhone - Applications iPhone.
Plus de 150.000 personnes ont été flashées en 2010. Vous faites peut-être parmi de l'un d'eux ! Parfois pour 2 ou 3 km au dessus de la limitation... C'est pourquoi nous vous proposons aujourd'hui un dossier spécial avertisseurs de radars sur iPhone ou nous vous présenterons les fiables et ceux à éviter. Et vous, lequel utilisez-vous ? Avertinoo (VF, 6.9 Mo) Le marché des avertisseurs radars pour iPhone au bord de l'implosion ? – Casualtek. IRadar, Avertinoo, RadarFree, Sentinelle Radar, Wikango, AlertRadar, Eklaireur… les avertisseurs de radars ont fleuri sur l'AppStore d'iTunes au cours des derniers mois, profitant du récepteur GPS intégré de l'iPhone, de la connexion à Internet permanente intégrée au forfait, et du succès commercial de l'appareil. Et le public semble au rendez-vous. Chez Warning Radar, l'éditeur de Sentinelle Radar, Philippe Pénide revendique plus de 12 000 utilisateurs – « j'ai été surpris de l'envolée ; nous avons eu plusieurs centaines de téléchargements par jour suite au lancement. » Eklaireur serait quant à lui autour de 15 000 utilisateurs réguliers.
Mais cette floraison ne va pas sans poser bon nombre de questions. Des informations fiables ? Sentinelle Radar.
---