Benchmark
PhantomAlert.com: No More Speeding Tickets - Home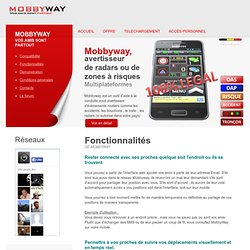 avertisseur de radars fixes et mobiles ou de zones à risques pour téléphone portable.
Rester connecté avec ses proches quelque soit l'endroit ou ils se trouvent
Speed camera detector for iPhone
INRIX® Traffic | Get There. Faster.
Depuis une décision prise en mai 2011 par Claude Guéant, ministre de l'Intérieur, les appareils et applications antiradars ne sont plus : place désormais aux « assistants d'aide à la conduite et de zones de danger ». Après un lobbying des constructeurs d'avertisseurs de radar, une négociation avec le gouvernement a abouti à un consensus quant à l'utilisation de ces appareils « d'aide à la conduite » dont la volonté affichée est de « réduire le nombre de victimes de la route ». Dans les faits, les utilisateurs s'en servent pour ralentir dans les zones à risque afin d'éviter d'éventuelles amendes voire réductions de points.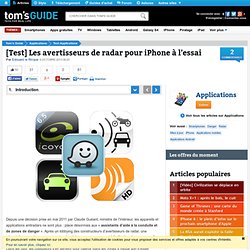 Avertisseur de radar : les applis Android et iPhone en test : Introduction
Zorro GPS Nav Software Debuts on the iPhone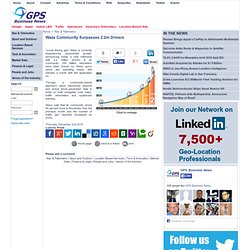 0inShare Click to enlarge
Waze Community Surpasses 2.2m Drivers
0inShare The recently released PASSPORT iQ from ESCORT, a Personal Navigation Device that combines turn-by-turn navigation with laser, radar, red-light camera and speedcam detection is using NAVTEQ map data and the NavSDK navigation platform from deCarta, we learned this week. NAVTEQ also said its real-time traffic data will be included in all PASSPORTiQ devices beginning in the first quarter of 2011.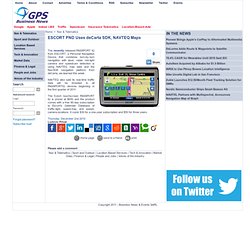 ESCORT PND Uses deCarta SDK, NAVTEQ Maps
Orange Maps (France) Gets Wikango Speedcam Warnings
Cobra iRadar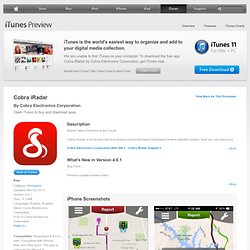 Description iRadar Takes Detection to the Cloud! Cobra iRadar is the world's first and largest community-based radar/laser/camera detection system.
Cobra to Add Crowdsourcing to iRadar Detector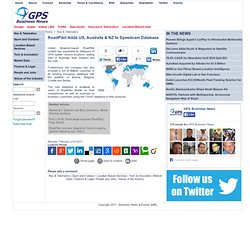 0inShare United Kingdom-based RoadPilot Limited has expanded its database of GPS speed camera locations, adding sites in Australia, New Zealand and the USA.
RoadPilot Adds US, Australia & NZ to Speedcam Database
NAVIGON Offers Optional US Safety Cam in New iPhone App
Speedcam Warning App Hot in Germany
Waze Updates App with Gas Prices in the U.S.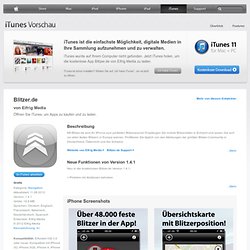 Beschreibung
"Blitzer.de" für iPhone 3G, iPhone 3GS, iPhone 4, iPhone 4S, iPad Wi-Fi + 3G, iPad 2 Wi-Fi + 3G und iPad Wi-Fi + 4G im iTunes App Store
TomTom Speed Cameras UK/IE for iPhone 3GS, iPhone 4, iPhone 4S, iPad Wi-Fi + 3G, iPad 2 Wi-Fi + 3G and iPad Wi-Fi + 4G on the iTunes App Store
Description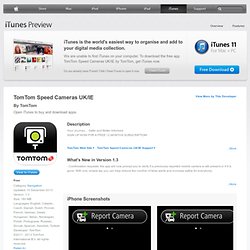 Mobile - Orange
Wikango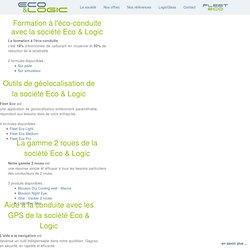 Parce que nous ne sommes pas tous des informaticiens de formation, nous avons voulu faire une plateforme intuitive et facile d'utilisation. Voir vos véhicules, faire vos paramétrages de rapport ou/et d'alarmes deviendra un jeu d'enfant.
Eco & Logic - L'étude comportementale de conduite - La géolocalisation avec Eco & Logic - iStar et FleetEco
mobiradars : Avertisseur de Radars communautaire Français - iPhone 3G/3Gs
Road Angel - Getting you there safely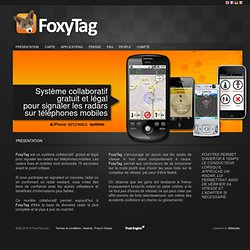 FoxyTag est un système collaboratif, gratuit et légal pour signaler les radars sur téléphones mobiles. Les radars fixes et mobiles sont annoncés 15 secondes avant le point critique. Si vous participez en signalant un nouveau radar ou en confirmant un radar existant, vous créez des liens de confiance avec les autres utilisateurs et bénéficiez d'informations plus fiables.
Système collaboratif, gratuit et légal pour signaler les radars sur téléphones mobiles
Swiss-Traffic - Informations Routières sur votre Mobile. Radars, Trafic, Contrôles
Swedish Speedcams
Swedish Speedcams in English Welcome to this site that is primarily covering Swedish speedcams. This page is a very short and simplified English version of this site.
index
Pour ma part, je ne souhaite pas investir dans un abonnement, l'application Avertinoo est une bonne alternative à iCoyote. La taille de la communauté de cette dernière est peu être légèrement inferieure à celle de Coyote mais ce n'est pas flagrant non plus, à certains endroits, l'inverse est aussi constaté. De plus au contraire d'iCoyotte, Avertinoo indique le nombre d'ouvreurs circulant réellement sur votre route secondaire, seule indication fiable sur la surveillance au non de la route que vous empruntez.
Dossier : Avertisseurs de radars sur iPhone - Applications iPhone
Le marché des avertisseurs radars pour iPhone au bord de l'implosion ? – Casualtek
IRadar, Avertinoo, RadarFree, Sentinelle Radar, Wikango, AlertRadar, Eklaireur… les avertisseurs de radars ont fleuri sur l'AppStore d'iTunes au cours des derniers mois, profitant du récepteur GPS intégré de l'iPhone, de la connexion à Internet permanente intégrée au forfait, et du succès commercial de l'appareil. Et le public semble au rendez-vous.