STRAIGHT EDGE LIFESTYLE
Welcome visitor! Would you like to login? Or would you like to create a new account ? Dies ist die Standardinstallation von xtcModified. Alle dargestellten Produkte dienen zur Demonstration der Funktionsweise.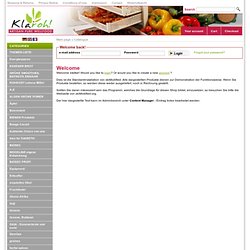 Veggie´s Delight
Happy Gorilla Shop - Shop
iVegan
Das Restaurant Nanushkka in Tel Aviv ist berühmt für seine traditionelle Georgische Küche. Das Konzept ist äußerst erfolgreich – ohne Reservierung muss man oft lange Wartezeiten in Kauf nehmen, und das bei weit über 100 Sitzplätzen. Die Georgische Küche legt einen Schwerpunkt auf Fleisch, und auch im Restaurant Nanushka ging es ganz wesentlich darum. Doch vor kurzem wurden die Betreiber vegan und haben sich ganz auf die Argumente der veganen Bewegung eingelassen, die in Israel extreme Popularität und Verbreitung gewonnen hat.
vegan.de | Schön, dass Sie hier sind!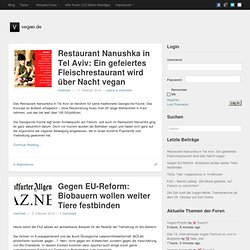 forum: vegan.de - Forum :: Kontaktbörse
forum: vegan.de - Forum :: Jobs & Contacts
Vegane Kosmetikliste von P2 « Blanc et Noir – Vegan Beauty Blog