Cannesfilmfestival
Motion Picture Film, Digital Cinema, Digital Intermediate
Reel Ideas Studio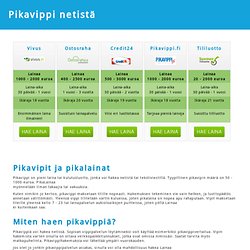 Pikavipit ja pikalainat Pikavippi on pieni laina tai kulutusluotto, jonka voi hakea netistä tai tekstiviestillä. Tyypillinen pikavipin määrä on 50 - 1000 euroa. PikaLainaa myönnetään ilman takaajia tai vakuuksia. Kuten nimikin jo kertoo, pikavippi maksetaan tilille nopeasti. Hakemuksen tekeminen vie vain hetken, ja luottopäätös annetaan välittömästi.
Caachi — Caachi
Cannes Cinema SITE OFFICIEL introduction
MOVIE NEWS, FILMMAKING, BOX OFFICE, MOVIE TRAILERS, SCREENPLAYS
Film Festivals and Production Industry Events Calendar : Product
the international database of film festivals & short films
Directors' Fortnight | News
Cinando
L'ACID s'agrandit à Cannes ! Publié le mardi 8 avril 2014. Devant l'affluence de ces dernières années, et grâce au soutien du CNC et de la SACD, l'ACID double ses séances de 20h : le même film sera projeté simultanément aux Arcades 1 et 2, en présence des équipes. En attendant de dévoiler sa programmation 2014 (mardi 22 avril), l'ACID se réjouit de ce que les 9 longs métrages présentés à Cannes l'an dernier par l'association sont tous sortis depuis au cinéma, de La Bataille de Solférino à L'Étrange petit chat (voir récapitulatif infra). C'est Natalia Olbinski, étudiante à l'École nationale supérieure des Arts Décoratifs (EnsAD), qui a signé l'affiche de cette édition. Vous pouvez la télécharger en bonne définition ici : http://bit.ly/ACID_POSTER_2014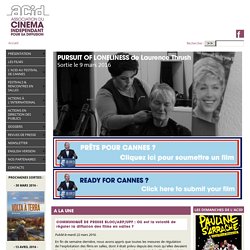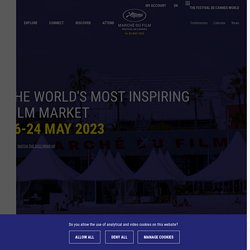 Marche du Film
Welcome to the Marché du Film of the Festival de Cannes! From 11 to 20 of May, you will meet, discover, trade, negotiate, buy, and sell… During those ten days you and your colleagues will determine the future direction of the film industry. The Marché du Film is the biggest event in the international film industry and a unique opportunity to further your projects.
Short Film Corner
Palais des Festivals et des Congrès de Cannes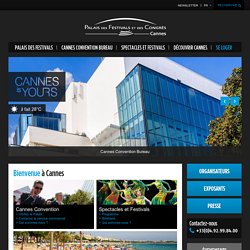 Concert exceptionnel de THIRTY SECONDS TO MARS le 18 Juillet Le phénomène rock Thirty Seconds to Mars sera le 18 juillet 2014, en exclusivité sur la Terrasse du Palais des Festivals et des Congrès de Cannes. Coup double pour la cité du cinéma qui accueillera ainsi le comédien américain Jared Leto, récemment «oscarisé » et leader du phénomène rock du moment à travers le monde.En savoir plus ι Réservez en ligne Saison culturelle "Sortir à Cannes" 45 spectacles à savourer sans modération !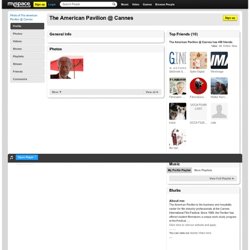 About me: The American Pavilion is the business and hospitality center for film industry professionals at the Cannes International Film Festival. Since 1989, the Pavilion has offered student filmmakers a unique work-study program at the Festival. .... Click here to visit our website and apply. You can view our Adobe Video here. ....
www.myspace.com/americanpavilion
AMPAV :: The American Pavilion
Nicolosi: Celebrity Pop Artist - Pop Art Galleries
Nassiri Music - World Peace Tour Home