Aikido
Index of /aikido
aikidodotcom
Aikido Online Welcomes You!
Seminar: Cognard Shihan 8thDan in VA, CA, AZ (June 2014) Posted 4/13/2014 4:19pm [from Andrea Debiasi] "Kokusai Aikido Kenshukai Kobayashi Hirokazu Ryu Ha" (KAKKHRH) is pleased to announce a series of seminars directed by Cognard Andre Shihan 8th Dan (Hanshi, Dai Nippon Butoku Kai), which will take place in Virginia/DC Metro Area (June 9: Arlington), Southern California (June 12-14: Orange) and Arizona (June 16: Phoenix). All affiliations, levels, and juniors are very welcome. Check out the details in the dedicated Website: http://www.usa-seminar-kakkhh.com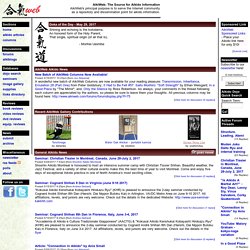 Aikido World Journal - Homepage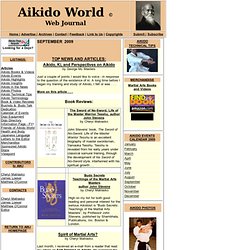 No matter the federation affiliation, articles and event submissions can be submitted by legitimate dojos, federations, and individuals. These should be sent via e-mail to: c-matrasko@aikido-world.com © 2009, Aikido World, Inc. All rights reserved A Not for Profit Corporation Aikido World Journal (AWJ) Aikido World Web Journal Aikido World, Inc.
Video clips of Aikido Techniques, Classes and Demonstrations At a seminar I held in the Czech city Hradec Kralove, in the spring of 2003, Larry Kwolek made a number of video clips. Some of them you find below. More of me, and many others, you find at Larry's big aikido website Aikidojo.info.
AIKIDO - Video clips - Stefan Stenudd -----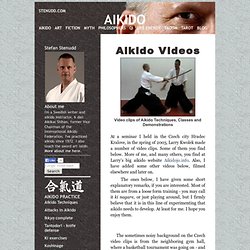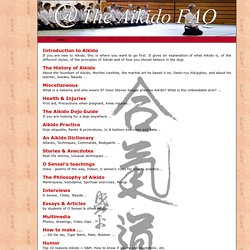 Introduction to Aikido What is Aikido, Principles, Ki, Competition ... The History of Aikido Morihei Ueshiba, Daito-ryu Aikijujitsu, Sokaku Takeda ... Miscellaneous Hakama info, Steven Seagal, Unbendable arm ... Health & Injuries First aid, Precautions when pregnant ... The Aikido Dojo Guide If you are looking for a dojo anywhere ...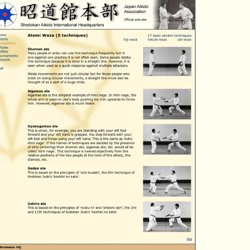 Shodokan Aikido
Shomen ate Many people in enbu can use this technique frequently but in one-against-one practice it is not often seen. Some people dislike this technique because it is done in a straight line. However, it is seen when used as a quick response against multiple attackers. Aikido movements are not just circular but for those people who insist on using circular movements, a straight line must also be thought of as a part of a huge circle.
While many cultures developed substitute weapons for developing martial skills, none have attained the degree of effectiveness, refinement and reserved austerity as the Japanese bokken, the wooden sword of the samurai. Unlike so many historical relics, not only did it attain a completely independent status as a weapon in its own right, it is still widely used by martial artists today. Similarly, the straight jo staff with its austere versatility, remains as relevent now as it did four hundred years ago. Since 1986, Kingfisher WoodWorks has produced these and other traditional wooden weapons including shoto, tanto, hanbo, yawara, suburito and also provides related accessories including sword stands and cases.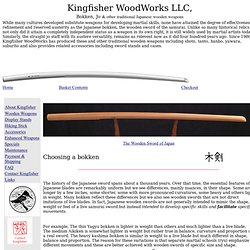 Kingfisher Woodworks: Bokken, Jo, Japanese wooden swords and sta
Aikido Primer
Daniel Toutain et Eric Savalli Aiki Shuren Dojo Rennes - 2002 Eric Savalli - 5ème Dan Iwama Ryu France Eric SAVALLI est, depuis 1988, proche élève de Daniel TOUTAIN, 6ème Dan Iwama Ryu, qui est le représentant de Maître SAITO en France. De nombreux enseignants étrangers suivent l'enseignement de Daniel TOUTAIN (directeur technique national Iwama Ryu France). Eric SAVALLI poursuit son perfectionnement auprès de son professeur à l'occasion de stages à Rennes et lors de stages internationaux (Lannion, Auray, Marseille, Toulouse, Liege, Istanboul, Edinbourgh, Cambridge, Queretaro).
AIKI DOJO AZUR: Aikido Iwama Ryu à Grasse, Nice, Sophia Antipoli