Webcam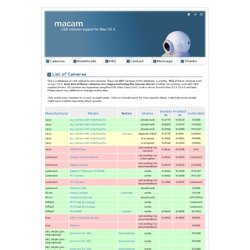 This is a database of USB webcams and cameras. There are cameras in this database. Currently, of these cameras work on Mac OS X. Another 18 cameras work with OEM supplied drivers. 43 cameras are supported using the USB Video Class (UVC) built-in driver found in Mac OS X 10.4.3 and later. Please report any additions or changes to this data! Click on the colum headers to re-sort (except Notes).
macam : Support Cameras
Over 20 million downloads for Mac and Windows. Thousands of live audio & video effects online. Download ManyCam 4.0 Free! Version 4 Now Available!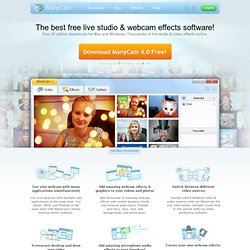 Gawker
Introduction Welcome to the USB Video Class Linux device driver home. The goal of this project is to provide all necessary software components to fully support UVC compliant devices in Linux. This include a V4L2 kernel device driver and patches for user-space tools. The USB Device Class Definition for Video Devices, or USB Video Class, defines video streaming functionality on the Universal Serial Bus. Much like nearly all mass storage devices (USB flash disks, external SATA disk enclosures, ...) can be managed by a single driver because they conform to the USB Mass Storage specification, UVC compliant peripherals only need a generic driver.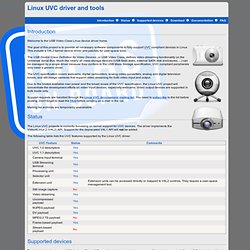 Linux UVC driver & tools
ViewMAX Samples