Virus
AVG Rescue CD | Windows System Recovery from Viruses & Spyware
AVG Rescue CD is a comprehensive toolkit that will repair system crashes and return systems to a state where they can operate at full capacity, thanks to deep-rooted infections having been removed and file systems repaired. Get your business back up and running rapidly in case of system crashes. AVG Rescue CD gets your PC back up and running rapidly reducing potential downtime for you and your business in case of system crash. Get the tools the experts have been using for years completely free If you or anyone you know has a malware infection thats got past their security software, AVG's Rescue CD will get that PC back in working order. AVGs resellers have been using this powerful toolkit for years to recover customers infected systems, and now its available for your business free of charge.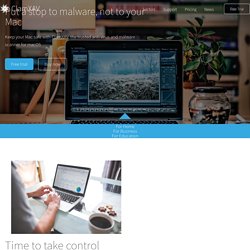 ClamXav is a free virus scanner for Mac OS X. It uses the very popular ClamAV open source antivirus engine as a back end and has the ability to detect both Windows and Mac threats. ClamXav can be setup up as passive or active: scan only the files you tell it to or your entire hard drive, whichever you prefer; you can also choose to activate Sentry to monitor your hard drive and scan new files as they arrive. Introducing ClamXav 2
Introduction - matousec.com
This project examines security software for Windows OS that implement application-based security model – i.e. most of the products called Internet security suites, personal firewalls, HIPS, behavior blockers, and similar products on the market. A product must meet some fixed criteria in order to be included in this project. The list of products suitable for this project that we are aware of is available on the product list page. The goal of this project is to evaluate various abilities of security products to protect the user's data and the operating system based on the application behavior control and similar features.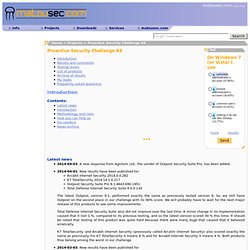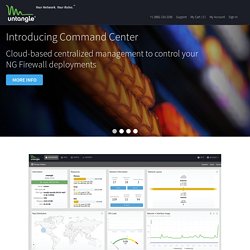 Prioritize mission-critical traffic and eliminate bottlenecks.Improve network performance, stability and reliability.Make cloud services feel like they're local apps.Handle thousands of concurrent sessions without missing a beat. Introducing Internet Content ControlYour Internet. Your Priorities.Learn More
AV-Comparatives is an independent not-for-profit organization offering systematic testing that checks whether security software, such as PC/Mac-based antivirus products and mobile security solutions, lives up to its promises. Using one of the largest sample collections worldwide, it creates a real-world environment for truly accurate testing. AV-Comparatives offers freely accessible results to individuals, news organizations and scientific institutions. Certification by AV-Comparatives provides an official seal of approval for software performance which is globally recognized. Currently, AV-Comparatives' Real-World Protection Test is the most comprehensive and complex test available when it comes to evaluating the real-life protection capabilities of antivirus software. Put simply, the test framework replicates the scenario of an everyday user in an everyday online environment – the typical situation that most of us experience when using a computer with an Internet connection.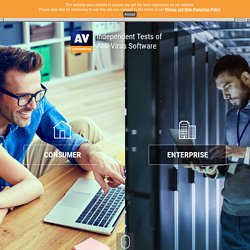 Virus Bulletin : Independent Malware Advice
Back to VBA Last month's issue of Virus Bulletin featured a detailed analysis of the Polarbot (a.k.a. Solarbot) trojan. The article covered just about everything you could ever want to know about it – except for one thing: how does a computer end up being infected with this creation? Gabor Szappanos fills the gap by detailing one of the infiltration methods that was used extensively in the attack.Read more... VBSpam certification report January 2014 The full VBSpam test report provides detailed performance analysis, detection rates and the testing team's thoughts on user experience for each product.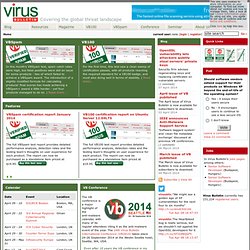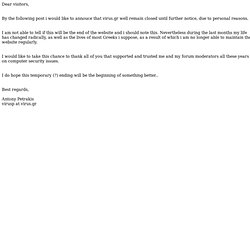 Antivirus programs and protection guide, virus info, antivirus tests, Free Antivirus Tools!
Dear visitors, By the following post i would like to annouce that virus.gr well remain closed until further notice, due to personal reasons. I am not able to tell if this will be the end of the website and i should note this. Nevertheless during the last months my life has changed radically, as well as the lives of most Greeks i suppose, as a result of which i am no longer able to maintain the website regularly.
There's been plenty of debate lately that maybe with the release of Windows Vista, we might be able to get away with not using antivirus on our computers. Running antivirus on a personal computer is like having the bomb squad inspect a suspicious package inside the house right next to you. Well I'm about to make an even bolder assertion, that running antivirus or even additional third party security software such as firewalls on your computer makes you even less safe! Now before you start the flaming, hear me out first.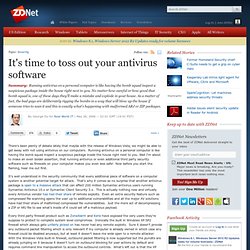 » It's time to toss out your antivirus software | George Ou | ZDNet.com
» Symantec and McAfee should stop crying about Vista | George Ou | TechRepublic.com