Virus
AVG Rescue CD | Windows System Recovery from Viruses & Spyware. AVG Rescue CD is a comprehensive toolkit that will repair system crashes and return systems to a state where they can operate at full capacity, thanks to deep-rooted infections having been removed and file systems repaired.
Get your business back up and running rapidly in case of system crashes. AVG Rescue CD gets your PC back up and running rapidly reducing potential downtime for you and your business in case of system crash. Get the tools the experts have been using for years completely free If you or anyone you know has a malware infection thats got past their security software, AVG's Rescue CD will get that PC back in working order. AVGs resellers have been using this powerful toolkit for years to recover customers infected systems, and now its available for your business free of charge. OPSWAT AppRemover, Thoroughly remove your security applications — AppRemover Site.
ClamXav. Introduction - matousec.com. This project examines security software for Windows OS that implement application-based security model – i.e. most of the products called Internet security suites, personal firewalls, HIPS, behavior blockers, and similar products on the market.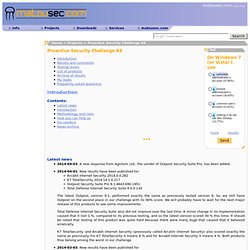 A product must meet some fixed criteria in order to be included in this project. The list of products suitable for this project that we are aware of is available on the product list page. The goal of this project is to evaluate various abilities of security products to protect the user's data and the operating system based on the application behavior control and similar features.
Open Source Network Gateway | Untangle. AV-Comparatives. VirusTotal - Free Online Virus and Malware Scan. AV-Comparatives. Infected or not - Find out if your PC has virus, spyware... Virus Bulletin : Independent Malware Advice. Antivirus programs and protection guide, virus info, antivirus tests, Free Antivirus Tools! Dear visitors, By the following post i would like to annouce that virus.gr well remain closed until further notice, due to personal reasons.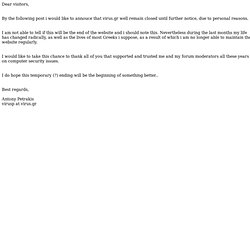 I am not able to tell if this will be the end of the website and i should note this. Nevertheless during the last months my life has changed radically, as well as the lives of most Greeks i suppose, as a result of which i am no longer able to maintain the website regularly. » It's time to toss out your antivirus software | George Ou | ZDNet.com. There's been plenty of debate lately that maybe with the release of Windows Vista, we might be able to get away with not using antivirus on our computers.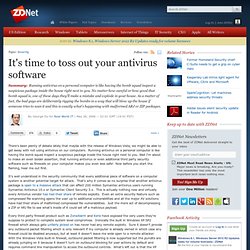 Running antivirus on a personal computer is like having the bomb squad inspect a suspicious package inside the house right next to you. Well I'm about to make an even bolder assertion, that running antivirus or even additional third party security software such as firewalls on your computer makes you even less safe! Now before you start the flaming, hear me out first. » Symantec and McAfee should stop crying about Vista | George Ou | TechRepublic.com.
---