VirtualPC
CSS3 support in Internet Explorer 6, 7, and 8. What is it?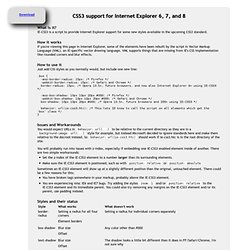 IE-CSS3 is a script to provide Internet Explorer support for some new styles available in the upcoming CSS3 standard. How it works If you're viewing this page in Internet Explorer, some of the elements have been rebuilt by the script in Vector Markup Language (VML), an IE-specific vector drawing language. VML supports things that are missing from IE's CSS implementation like rounded corners and blur effects. How to use it. Virtual PC Guy's WebLog. Evolt.org - Browser Archive. Taming Your Multiple IE Standalones. Return to p.i.e.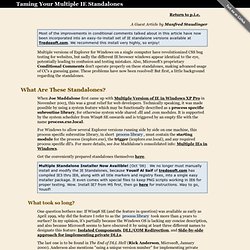 A Guest Article by Manfred Staudinger Most of the improvements in conditional comments talked about in this article have now been incorporated into an easy-to-install set of IE standalone versions available at Tredosoft.com. We recommend this install very highly, so enjoy! Download details: IE6 App Compat Test Image. Windows Virtual PC VHDs for testing websites with different Internet Explorer versions [Last Updated: 10/24/12] Note: There are multiple files available for this download.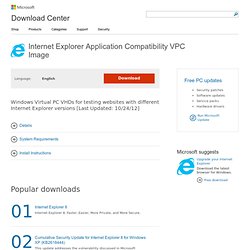 Once you click on the "Download" button, you will be prompted to select the files you need. TWe have expanded the virtualization platforms available and the list of images supported for your virtualized testing needs. We will be updating these images and maintaining their downloads over at.
---