Validation
site - Validation
http://geechu.com/jformat/
jFormVal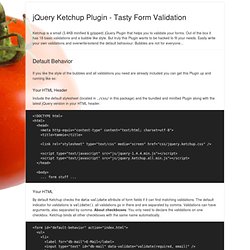 Do you need Frontend/Javascript/jQuery help with your project? I'm looking for new freelance gigs! Please send me a email to contact@mustardamus.com . Ketchup is a small (3.4KB minified & gzipped) jQuery Plugin that helps you to validate your forms.
Ketchup Plugin
grimen's validatious-on-rails at master - GitHub
queXF | An Open Source, web based paper form verification and data entry system
CSS-Only, Table-less Forms :: Code Samples :: Jeff Howden :: JeffHowden.com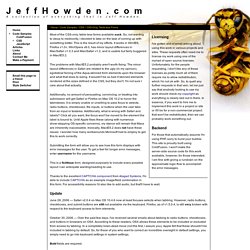 Licensing I've gotten alot of email asking about using this work in various projects and sites.
Math Captcha (#48) by Gavin Kistner "What is fifty times 'a', if 'a' is three?"
Ruby Quiz - Math Captcha (#48)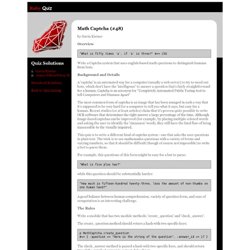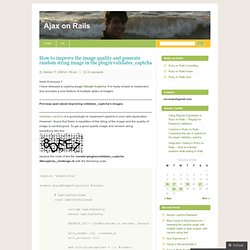 October 17, 2006 at 1:50 pm Hello Everyone !! I have released a captcha plugin Simple Captcha . It is really simple to implement, and provides a cool feature of multiple styles of images.
How to improve the image quality and generate random string image in the plugin validates_captcha « Ajax on Rails
Captcha in Ruby on Rails - Customize the use of captcha in the plugin validates_captcha « Ajax on Rails
October 24, 2006 at 6:59 pm Hello Everyone !! I have released a captcha plugin Simple Captcha . It is really simple to implement, and provides a cool feature of multiple styles of images. Previous Post for validates_captcha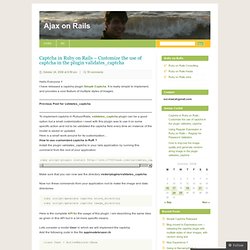 Panasonic Youth » BrainBuster - Logic Captcha for Rails
form_test_helper: Make form-related functional tests easier in Rails