Unix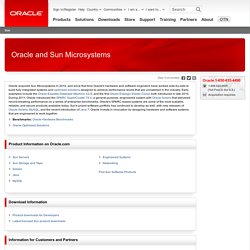 Oracle acquired Sun in 2010, and since that time Oracle's hardware and software engineers have worked side-by-side to build fully integrated systems and optimized solutions designed to achieve performance levels that are unmatched in the industry. Early examples include the Oracle Exadata Database Machine X2-8 , and the first Oracle Exalogic Elastic Cloud , both introduced in late 2010. During 2011, Oracle introduced the SPARC SuperCluster T4-4 , a general-purpose, engineered system with Oracle Solaris that delivered record-breaking performance on a series of enterprise benchmarks. Oracle's SPARC-based systems are some of the most scalable, reliable, and secure products available today.
Visual Disk Test (VDT)
goosh.org - the unofficial google shell.
blacktree-visor - Google Code
Linux only: Reader Chris writes in with an excellent tip that changes the prompt to red when using the root account from the terminal—as a reminder to be more careful. Using the tip is relatively simple—just edit the /root/.bashrc file and add in the following, preferably commenting out the existing lines that set the color, though you can simply add this line to the end of the file. Once you've added this line, anytime you switch to using the root shell you will see the prompt in red with white text for the command line . Chris takes it further, with a line that turns the prompt green for regular users, which you can enable by adding the following to your ~/.bashrc file: This tip can really come in handy if you have a bunch of terminal windows open at once, so you can tell at a glance which ones are using root mode and which aren't. Thanks, Chris!
Use a Different Color for the Root Shell Prompt - Terminal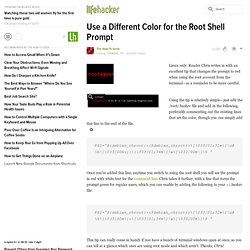 trash-cli - Google Code
bosh homepage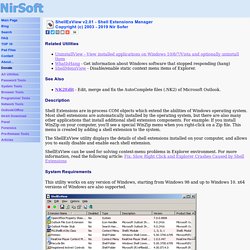 Related Utilities NK2Edit - Edit, merge and fix the AutoComplete files (.NK2) of Microsoft Outlook. WhatIsHang - Get information about Windows software that stopped responding (hang) WhatInStartup - Disable/enable/delete programs running at Windows startup. RegDllView - View registered dll/ocx/exe files on your system. ShellMenuView - Disable/enable static context menu items of Explorer.
You have requested a page from the Novell Developer Wiki. In order to better serve the Novell Developer Community the developer content previously available via the wiki has been migrated to http://www.novell.com/developer . The Novell Developer Kit and other Novell developer related content may now be accessed from that page. Here are some quick links to get you to some of the more popular pages:
Apparmor FAQ - Developer Community
Research Systems Unix Group: radmind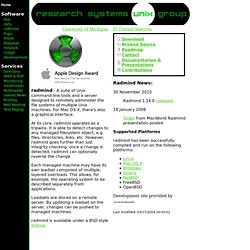 radmind - A suite of Unix command-line tools and a server designed to remotely administer the file systems of multiple Unix machines. For Mac OS X, there's also a graphical interface. At its core, radmind operates as a tripwire. It is able to detect changes to any managed filesystem object, e.g. files, directories, links, etc. However, radmind goes further than just integrity checking: once a change is detected, radmind can optionally reverse the change.
Let's face it: Bad habits are hard to break. But habits that you've just become comfortable with can be even more difficult to overcome. Sometimes, a fresh look at things may provide you with an "A-ha, I didn't know you could do that!" moment. Building on Michael Stutz's excellent article, " Learn 10 good UNIX usage habits ," this article suggests 10 more UNIX command-line commands, tools, and techniques that may make you more productive as a UNIX command-line wizard. The 10 additional good habits you should adopt are:
UNIX tips: Learn 10 more good UNIX usage habits