Ubuntu
So, you've just installed Ubuntu 7.04, otherwise known as the "Feisty Fawn" release of everyone's favorite (for now) flavor of Linux. You booted the installation disc, looked around the test environment to discover that your hardware was working, and double-clicked the Install icon on the desktop. The Ubuntu installer helped you make room for Linux on your hard drive, and even copied over some of your documents and settings from Windows. Half an hour ago, you had only Windows on your PC, but now you have a choice at boot time, and a whole new world to explore.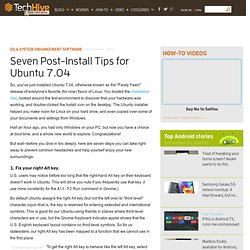 PC World - Seven Post-Install Tips for Ubuntu 7.04
CLIcompanion in Launchpad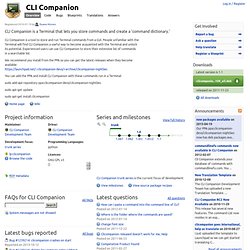 CLI Companion is a tool to store and run Terminal commands from a GUI. People unfamiliar with the Terminal will find CLI Companion a useful way to become acquainted with the Terminal and unlock its potential. Experienced users can use CLI Companion to store their extensive list of commands in a searchable list. We recommend you install from the PPA so you can get the latest releases when they become available:https://launchpad.net/~clicompanion-devs/+archive/clicompanion-nightlies You can add the PPA and install CLI Companion with these commands run in a Terminal:
PythonSnippets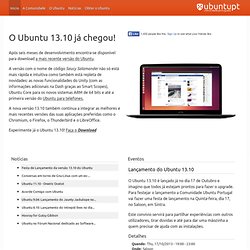 Ubuntu-pt :: homepage
Após seis meses de desenvolvimento encontra-se disponível para download a mais recente versão do Ubuntu. A versão com o nome de código Saucy Salamander não só está mais rápida e intuitiva como também está repleta de novidades: as novas funcionalidades do Unity (com as informações adicionais na Dash graças ao Smart Scopes), Ubuntu Core para os novos sistemas ARM de 64 bits e até a primeira versão do Ubuntu para telefones. A nova versão 13.10 também continua a integrar as melhores e mais recentes versões das suas aplicações preferidas como o Chromium, o Firefox, o Thunderbird e o LibreOffice.
Um site muito bom, o Fowtec.com » Ubuntu Os X