Texture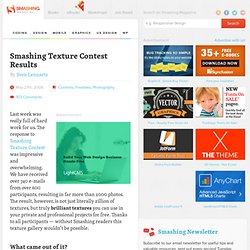 Advertisement Last week was really full of hard work for us.
Smashing Texture Contest Results | Graphics
Free Textures from Z7server
AmazingTextures.com is one of the biggest and most popular dedicated online texture libraries in the world. Established in 2004, we have thousands of professionals using our texture library every day. We are constantly adding to the library, creating new textures that will save you time and bring your 3D scenes to life.