Socialmedia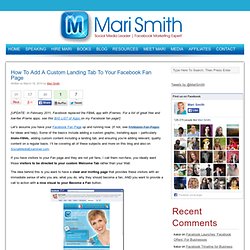 How To Add A Custom Landing Tab To Your Facebook Fan Page
[UPDATE: In February 2011, Facebook replaced the FBML app with iFrames.
SOCIAL MARKETING FORUM - The community for social media marketing ideas & conversations
IBM, Microsoft, SAP and other companies might be pouring massive amounts of cash into marketing via social technologies, but according to a new study by Forrester, Web 2.0 techniques aren't what compel a business buyer to purchase a particular solution. According to the study, some 77 percent of surveyed business decision makers use social media and messaging and collaboration applications on the job, whether publishing a Web page, posting comments or using Facebook.
Facebook, Other Social Technologies Not Engaging Marketers