Rss
$Id: Tutorial.en 377 2009-05-16 02:07:58Z kou $ Sorry for my funny English :-( Note RSS Parser supports RSS 0.9x/1.0/2.0 excluding 0.90. Sorry.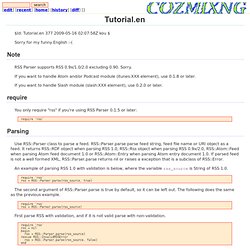 RSS Parser::Tutorial.en
A basic premium account allows you to store 25 Links (URLs) in your account. These links will be automatically pinged every three days. A premium account not only saves you the hassle of having to ping each of your links manually, it also ensures that pinging is performed frequently and in a timely manner. You can also benefit from the many tools and plugins we offer.
Blog and ping | Pingoat