Regexp
Here is a non comprehensive list of tools I made and how to download them: NOTE: you can get the source code and contribute to most of these over here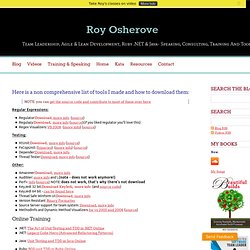 Tools - Roy Osherove - Team Leadership, Agile Development & .NET - Speaking, Consulting, Training and Tools
Advanced Regular Expression Tips and Techniques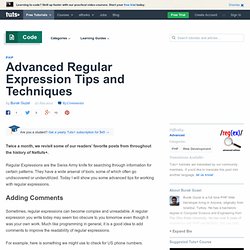 Twice a month, we revisit some of our readers' favorite posts from throughout the history of Nettuts+. Regular Expressions are the Swiss Army knife for searching through information for certain patterns.
Regex Powertoy (interactive regular expressions)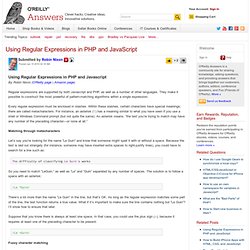 Using Regular Expressions in PHP and JavascriptBy Robin Nixon (O'Reilly page | Amazon page)
Using Regular Expressions in PHP and JavaScript - O'Reilly Answers
Reggy - Home
a Ruby regular expression editor and tester
A Regular Expression is the term used to describe a codified method of searching invented, or defined, by the American mathematician Stephen Kleene. The syntax (language format) described on this page is compliant with extended regular expressions (EREs) defined in IEEE POSIX 1003.2 (Section 2.8).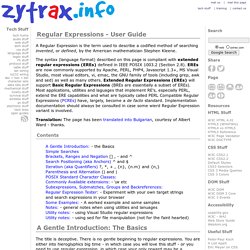 Regular Expressions - a Simple User Guide
do-it-with-sed
regexxer Search Tool
TextCrawler is a fantastic tool for anyone who works with text files. This cool utility enables you to instantly find and replace words and phrases across multiple files and folders.
TextCrawler - Search and Replace across files - Freeware
RegExr: Online Regular Expression Testing Tool
RegexBuddy: Learn, Create, Understand, Test, Use and Save Regular Expression
reggy - Google Code
Abstract
The Regex Coach - interactive regular expressions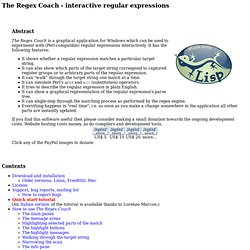 Perl 5.10 Advanced Regular Expressions
Regular Expressions Cheat Sheet