Regexp
Tools - Roy Osherove - Team Leadership, Agile Development & .NET - Speaking, Consulting, Training and Tools. Here is a non comprehensive list of tools I made and how to download them: NOTE: you can get the source code and contribute to most of these over here Regular Expressions: Regulator:Download, more info (source)Regulazy:Download, more info (source)(if you liked regulator you'll love this)Regex Visualizers: VS 2008 (more info) (source) Testing: Other: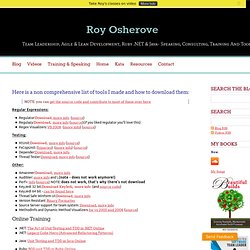 Advanced Regular Expression Tips and Techniques. Twice a month, we revisit some of our readers' favorite posts from throughout the history of Nettuts+.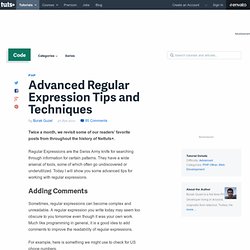 Regular Expressions are the Swiss Army knife for searching through information for certain patterns. They have a wide arsenal of tools, some of which often go undiscovered or underutilized. Regex Powertoy (interactive regular expressions) Using Regular Expressions in PHP and JavaScript - O'Reilly Answers. Using Regular Expressions in PHP and JavascriptBy Robin Nixon (O'Reilly page | Amazon page) Regular expressions are supported by both Javascript and PHP, as well as a number of other languages.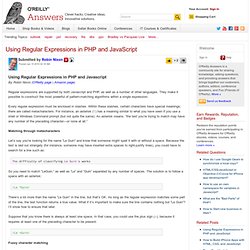 They make it possible to construct the most powerful of pattern-matching algorithms within a single expression. Every regular expression must be enclosed in slashes. Reggy - Home. A Ruby regular expression editor and tester. Regular Expressions - a Simple User Guide. A Regular Expression is the term used to describe a codified method of searching invented, or defined, by the American mathematician Stephen Kleene.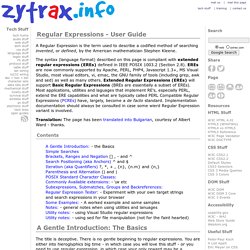 The syntax (language format) described on this page is compliant with extended regular expressions (EREs) defined in IEEE POSIX 1003.2 (Section 2.8). EREs are now commonly supported by Apache, PERL, PHP4, Javascript 1.3+, MS Visual Studio, most visual editors, vi, emac, the GNU family of tools (including grep, awk and sed) as well as many others. Extended Regular Expressions (EREs) will support Basic Regular Expressions (BREs are essentially a subset of EREs). Most applications, utilities and laguages that implement RE's, especially PERL, extend the capabilities defined and this has become, mostly, the de facto standard. The appropriate documentation should always be consulted. Do-it-with-sed. Regexxer Search Tool. TextCrawler - Search and Replace across files - Freeware. TextCrawler is a fantastic tool for anyone who works with text files.
This cool utility enables you to instantly find and replace words and phrases across multiple files and folders. It utilises a powerful Regular Expression engine to enable you to create sophisticated searches, preview replace, perform batch operations, extract text from files and more. It is fast and easy to use, and as powerful as you need it to be. RegExr: Online Regular Expression Testing Tool. RegexBuddy: Learn, Create, Understand, Test, Use and Save Regular Expression. Reggy - Google Code. The Regex Coach - interactive regular expressions. Abstract The Regex Coach is a graphical application for Windows which can be used to experiment with (Perl-compatible) regular expressions interactively.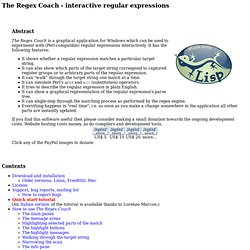 It has the following features: It shows whether a regular expression matches a particular target string. It can also show which parts of the target string correspond to captured register groups or to arbitrary parts of the regular expression. Perl 5.10 Advanced Regular Expressions. Regular Expressions Cheat Sheet.
---