Projectmanagement
TeamLab – Create Your Enterprise Portal in the Cloud for Free. Tine 2.0 - Open Source Groupware and CRM. Smarter Project Management. Project management, requirements, collaboration, and task software: Endeavour. Tree swing pictures - tire swing, tire swing, rope swing cartoon pictures. Home » amusement/stress relief » tree swing pictures the tree swing or tire swing funny diagrams - for training, presentations, etc The famous tree swing picture (also known as tyre swing, tire swing, rope swing) depicting tyre (or tire) and rope swing in various states of dysfunctionality, illustrates the pitfalls of poor product design, or poor customer service, and the dangers of failing to properly listen to customers and interpret their needs.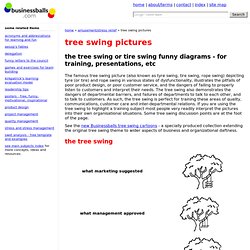 The tree swing also demonstrates the dangers of departmental barriers, and failures of departments to talk to each other, and to talk to customers. As such, the tree swing is perfect for training these areas of quality, communications, customer care and inter-departmental relations. If you are using the tree swing to highlight a training subject most people very readily interpret the pictures into their own organisational situations. Online project collaboration, management software: Zoho Projects. Work Better Together Unlock your team's potential by giving them the freedom to collaborate when and how they want—using Wiki, Forums and Chat.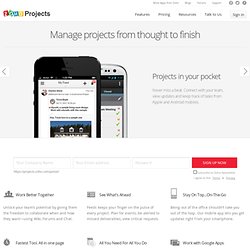 See What's Ahead Feeds keeps your finger on the pulse of every project. Cirillo's Scrapbook. Serena Open Source and Hosted Project Management Software. Pleno | Get Pleno. Todoyu | Get todoyu. An Open Source Web Office. Feng Office services are based on an integrated set of software and technology that improve productivity and communication; facilitating collaboration, information, and knowledge management.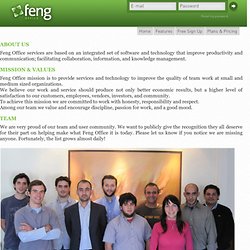 Feng Office mission is to provide services and technology to improve the quality of team work at small and medium sized organizations. We believe our work and service should produce not only better economic results, but a higher level of satisfaction to our customers, employees, vendors, investors, and community. David Seah - Compact Calendar 2009.
The Compact Calendar shows an entire year on a single sheet of paper, designed for quick week-based planning and scheduling.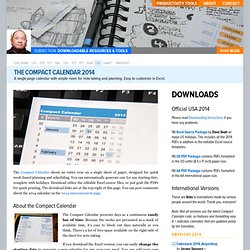 You can automatically generate one for any starting date, complete with holidays. Download either the editable Excel source files, or just grab the PDFs for quick printing. The download links are at the top-right of this page. You can post comments about the 2014 calendar on the 2014 announcement page. Home | Projity Open Source and Hosted Project Management Software. TaskAnyone.com - Email a task. We'll follow up 'till they follow through.
Mingle - Agile Project Management Application - ThoughtWorks Studios. Planner.
---