Privacy
In a game of chicken, which is the better strategy: Writing a lengthy and detailed "persistence policy" guaranteeing that you'll persist in your course and will not, under any circumstances, swerve to avoid your opponent; or ostentatiously removing your steering wheel and throwing it out the window? As noted by innumerable game theorists over the past fifty years, the latter strategy is the only one which is useful: Humans can't be — and aren't — trusted to follow their stated intentions. I was reminded of this by 37signals' response on Monday to last week's cat.jpg privacy failure. To be clear, I have a lot of sympathy for 37signals: Once someone looked in their logs and saw "cat.jpg" as the name of the one hundred millionth file they had stored, I'm sure the resulting fit of laughter significantly impaired the possibility of rational thought; and their response is certainly better than finding a scapegoat or trying to cover up the mistake.
Playing chicken with cat.jpg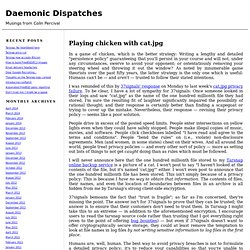 A firewall protects your computer against unwanted guests from the Internet. But who protects your private data from being sent out? Little Snitch does!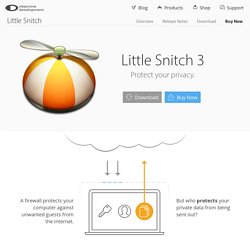 BleachBit | BleachBit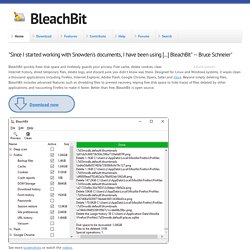 BleachBit quickly frees disk space and tirelessly guards your privacy. Free cache, delete cookies, clear Internet history, shred temporary files, delete logs, and discard junk you didn't know was there. Designed for Linux and Windows systems, it wipes clean a thousand applications including Firefox, Internet Explorer, Adobe Flash, Google Chrome, Opera, Safari,and more. Beyond simply deleting files, BleachBit includes advanced features such as shredding files to prevent recovery, wiping free disk space to hide traces of files deleted by other applications, and vacuuming Firefox to make it faster. Better than free, BleachBit is open source.
Give Me My Data helps you reclaim and reuse your Facebook data. About Give Me My Data Give Me My Data is a Facebook application that helps users export their data out of Facebook for reuse in visualizations, archives, or any possible method of digital storytelling. Data can be exported in common formats like CSV, XML, and JSON as well as customized network graph formats. About Your Data
Give Me My Data | A Facebook application to reclaim your information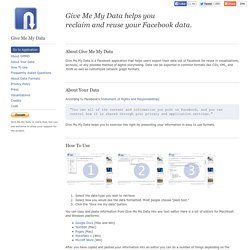 JanusVM - Internet Privacy Appliance
Darik's Boot and Nuke (DBAN) is free erasure software designed for consumer use. DBAN users should be aware of some product limitations, including: No guarantee that data is removedLimited hardware support (e.g. no RAID dismantling)No customer support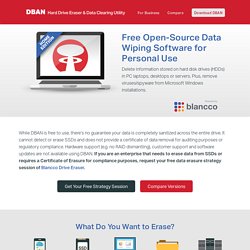 (Update, October 2009.) Adeona depends on the availability of a separate service, OpenDHT. On July 1, OpenDHT was taken down. We have taken the opportunity to set up OpenDHT again on PlanetLab, under our administration. However, we are still testing our OpenDHT infrastructure.