Privacy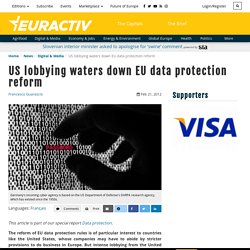 deposit details. Other type of sensitive information may relate to people's health condition or sexual or political orientation. Location data or online identifiers, such as cookies, are also widely considered as personal data. Meanwhile, EU citizens are becoming increasingly aware of the possibilities for misusing their personal information. According to a recent Eurobarometer poll , 70% of those surveyed were concerned that personal data is used by companies for purposes other than for what it was collected for, while 64% feel that information on how their data is processed is unsatisfactory.
US lobbying waters down EU data protection reform
In a game of chicken, which is the better strategy: Writing a lengthy and detailed "persistence policy" guaranteeing that you'll persist in your course and will not, under any circumstances, swerve to avoid your opponent; or ostentatiously removing your steering wheel and throwing it out the window? As noted by innumerable game theorists over the past fifty years, the latter strategy is the only one which is useful: Humans can't be — and aren't — trusted to follow their stated intentions. I was reminded of this by 37signals' response on Monday to last week's cat.jpg privacy failure . To be clear, I have a lot of sympathy for 37signals: Once someone looked in their logs and saw "cat.jpg" as the name of the one hundred millionth file they had stored, I'm sure the resulting fit of laughter significantly impaired the possibility of rational thought; and their response is certainly better than finding a scapegoat or trying to cover up the mistake.
Playing chicken with cat.jpg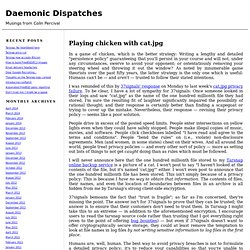 Yubico
Works instantly, no need to re-type pass codes from a device Works on Windows, Mac, Linux, iPad, Firefox, Chrome, etc Identified as a USB-keyboard, no client software or drivers needed Minimized size; 2 mm thin, 3 grams Practically indestructible; waterproof, crush safe, no battery Integration within minutes with free and open source server software Two slots for multiple configurations: OATH, Challenge-Response etc Also available with NFC (NEO) and minimized form factor (Nano) Manufactured in USA and Sweden with best practice security processes Lowest total cost of ownership for strong two-factor authentication How it works With a simple touch of the gold disc, the YubiKey sends a One Time Password (OTP) as if it was typed in from a keyboard.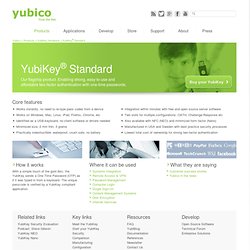 A firewall protects your computer against unwanted guests from the Internet. But who protects your private data from being sent out? Little Snitch does!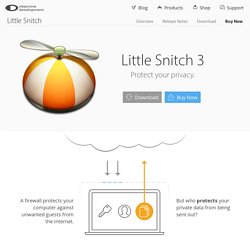 BleachBit | BleachBit
Give Me My Data | A Facebook application to reclaim your information
JanusVM - Internet Privacy Appliance
Meios e Publicidade - Google defende a sua política de dados depois de aviso da UE
protective order