n95
5 ways to use your Nokia N95 in business tagged with:No Tags While I am waiting for my Nokia N95, I might as well visualize how I would use the phone in a business situation. Work takes up quite a portion of my life, so my phone needs to be as much an assist as possible.
Nokia N95 blog - 5 ways to use your Nokia N95 in business
NiiMee by Asier Arranz ( A2Jsoft )
Configurar Sapo VOIP no nokia N95
Google Calendar + Nokia N95 = nuts with honey « Ranza's Research
Living with a Nokia N95
Continuing where I left off in my last post about the unboxing of the N97 mini , this post is going to be about comparing the N97 mini with the Google HTC G1.Why ? Well ..for starters , both the phones have a nice large 3.2 inch touch screen , both have slide out qwerty keyboards and both sell at almost the same price point (without contract) . I shall be covering various aspects of both the phones with a conclusion in the end.External appearance :There is no doubt as to who is the winner in this department.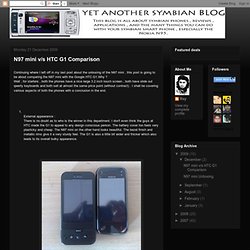 Yet Another Symbian Blog