Microsoft
Boycott Novell
Change passwords through a Web server securely in Windows 2000 Server
Failover Cluster APIs (Windows)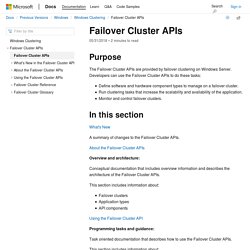 Purpose For failover clusters, Microsoft provides two APIs: the Failover Cluster API and the Cluster Automation Server. These Failover Cluster APIs let programmers develop management tools and high-availability resources for failover clusters.
MMD DupFinder ver. 1.8 MMD DupFinder is easy to use program designed to search your computer for duplicated files. DupFinder can scan your computer for files with the same size, name and modification time. Setting appropriate options allows you to choose between fast and best result set. Advanced result list includes almost all available information for the file.
MMD DupFinder - Duplicate Files Scanner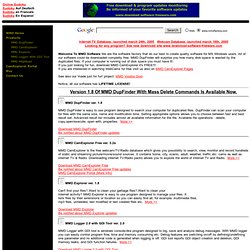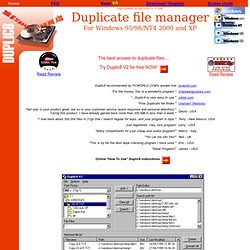 Online "How To Use" Duplic8 Instructions Features of Duplic8 V2 Search the drives, directories or the subdirectories YOU want to search, any combination you like.
Duplic8 - Duplicate File finder and manager for Windows 95, 98, ME, NT4, Windows 2000 and XP