Microsoft
Boycott Novell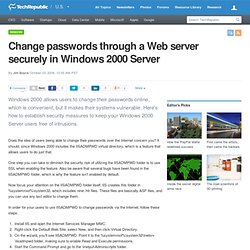 Change passwords through a Web server securely in Windows 2000 Server
The TechRepublic CIO50 list celebrates the most influential and innovative tech chiefs, voted by their fellow CIOs Does the idea of users being able to change their passwords over the Internet concern you? It should, since Windows 2000 includes the IISADMPWD virtual directory, which is a feature that allows users to do just that. One step you can take to diminish the security risk of utilizing the IISADMPWD folder is to use SSL when enabling the feature.
Whether you've just bought a new PC running Windows 7 or you've been using it for a while, there are bound to be things you didn't know you could do. Whether it's tweaks to get the desktop the way you want it, tips for troubleshooting or ways to squeeze more performance from Windows 7, we've got it covered. We've updated our popular Windows 7 tips article with a load of new ones, including how to recover locked-up apps, how to extend your jumplists, leave a Windows 7 Homegroup, and more. Read on for 85 tips to help you get the best from Windows 7. 1.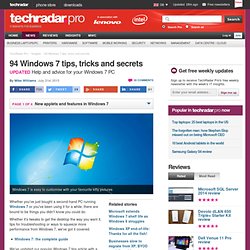 Failover Cluster APIs (Windows)
MMD DupFinder ver. 1.8 MMD DupFinder is easy to use program designed to search your computer for duplicated files. DupFinder can scan your computer for files with the same size, name and modification time. Setting appropriate options allows you to choose between fast and best result set. Advanced result list includes almost all available information for the file.
MMD DupFinder - Duplicate Files Scanner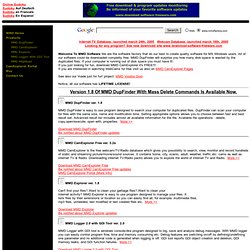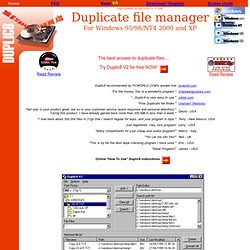 Online "How To Use" Duplic8 Instructions Features of Duplic8 V2 Search the drives, directories or the subdirectories YOU want to search, any combination you like.
Duplic8 - Duplicate File finder and manager for Windows 95, 98, ME, NT4, Windows 2000 and XP