Loadbalancing
Varnish Community | Varnish makes websites fly!
Varnish Cache 3.0 is coming the 16th of June 2011. Come and celebrate with us by joining a party near you ! http://cd34.com/blog/scalability/wordpress-varnish-and-esi-plugin/ WordPress, Varnish and ESI Plugin This post is a version of the slideshow presentation I did at Hack and Tell in Fort Lauderdale, Florida at The Whitetable Foundation on Saturday, June 4, 2011. Briefly, I created a Plugin that enabled Fragment Caching with WordPress and Varnish. The problem we ran into with normal page caching methods was related to the [...]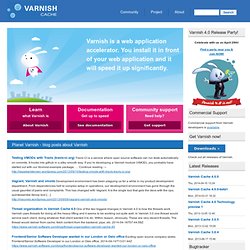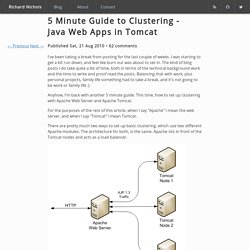 5 Minute Guide to Clustering – Java Web Apps in Tomcat | Pragmatic Coder : Java, Wicket and the Web
Sat, 21 Aug 2010 • 55 comments I've been taking a break from posting for the last couple of weeks. I was starting to get a bit run down, and feel like burn out was about to set in. The kind of blog posts I do take quite a bit of time, both in terms of the technical background work and the time to write and proof read the posts. Balancing that with work, plus personal projects, family life something had to take a break, and it's not going to be work or family life :)
Crossroads is an open source load balance and fail over utility for TCP based services. It is a daemon running in user space, and features extensive configurability, polling of back ends using 'wakeup calls', detailed status reporting, 'hooks' for special actions when backend calls fail, and much more. Crossroads is service-independent: it is usable for HTTP(S), SSH, SMTP, DNS, etc.. In the case of HTTP balancing, Crossroads can provide 'session stickiness' for back end processes that need sessions, but aren't session-aware of other back ends.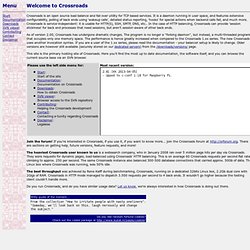 http://crossroads.e-tunity.com/