Ldap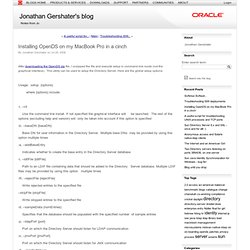 Installing OpenDS on my MacBook Pro in a cinch
After downloading the OpenDS zip file, I unzipped the file and exeucte setup in command line mode (not the graphical interface). This utility can be used to setup the Directory Server. Here are the global setup options: Usage: setup {options} where {options} include: -i, --cli
Home - OpenDJ - Confluence
GANYMEDE: GASH2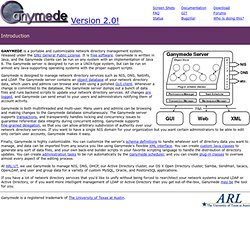 GANYMEDE is a portable and customizable network directory management system, released under the GNU General Public License . It is free software . Ganymede is written in Java, and the Ganymede clients can be run on any system with an implementation of Java 6. The Ganymede server is designed to run on a UNIX-type system, but can be run on almost any Java-supporting operating systems with the proper support scripts. Ganymede is designed to manage network directory services such as NIS, DNS, Netinfo, and LDAP.
LDAPManager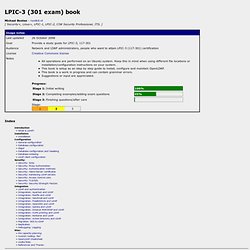 Michael Boelen - rootkit.nl [ Security+, Linux+, LPIC-1, LPIC-2, CIW Security Professional, ITIL ] Index Introduction » What is LDAP?
Study Guide / Book for LPIC-3 exam (117-301)
pluma
Fedora Directory Server (Open Source LDAP)
Apache Directory Studio 2.0-0-M6 released posted on March 14th, 2013 The Apache Directory Team is pleased to announce the release of Apache Directory Studio 2.0.0-M6, the sixth milestone release of the version 2.0 of its Eclipse based LDAP Browser and Directory client. You can download Apache Directory Studio 2.0.0-M6 as a standalone RCP application for Mac OS X, Linux and Windows here: http://directory.apache.org/studio/downloads.html You can also install it directly in Eclipse using this update site: http://directory.apache.org/studio/update/2.x/ Here are a few highlights of this new version: The integrated Apache Directory LDAP API has been upgraded to the latest version (1.0.0-M16).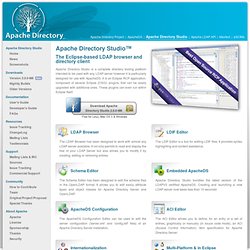 Directory Studio - The Eclipse based LDAP browser and directory client
Free ldap directory Download - ldap directory Mac Software