Html5
20 Useful Free PDF ebooks for Designers and Bloggers :Speckyboy Design Magazine. Over the years I have a saved a decent sized library of useful design and blogging related PDF ebooks, I love them.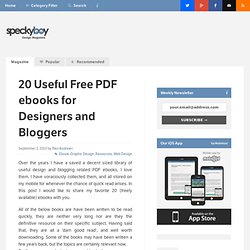 I have voraciously collected them, and all stored on my mobile for whenever the chance of quick read arises. In this post I would like to share my favorite 20 (freely available) ebooks with you. All of the below books are have been written to be read quickly, they are neither very long nor are they the definitive resource on their specific subject. Having said that, they are all a 'darn good read', and well worth downloading.
Sinuous - An HTML5 canvas game. Avoid the red dots! IE Print Protector - ieCSS.
---