Flickr
JetPhoto Studio is a feature-rich and easy-to-use digital photography software. Take a tour - Organizes photos in albums - Manage photos with the calendar and map - Geotag photos with GPS - Create Flash and Web galleries - Publish web albums with JetPhoto Server Video as well New version 5 can also manage video clips and make Flash or web galleries contains videos. With just a few clicks, JetPhoto Studio can turn your digital photos into a Flash gallery or a web gallery quickly and easily.
JetPhoto - digital photo organizing, creating, sharing and publishing software
Early Innovations
README.md Camera Life Version 2.7 Copyright (C) 2001-2014 William Entrikenhttps://github.com/fulldecent/cameralifecameralife@phor.net Camera Life is a system for cataloging your photo collection. It gives users the ability to search or browse your archive in intuitive ways, with an attention to powerful administrative functions. Features
Welcome To Camera Life!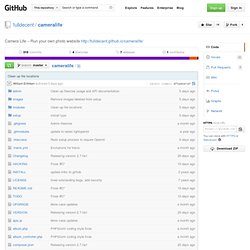 ShoZu
QOOP--Home