Exif
shootShifter 1.1.1 ... redate and rename folders of images on a Mac.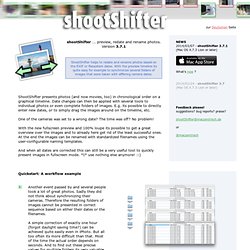 shootShifter ... preview, redate and rename photos. Version 3.6 ShootShifter helps to redate and rename photos based on the EXIF or filesystem dates.
DateTree is an application for Mac OS X that will copy files into a set of folders named by date. Although the program was written with images in mind, it will handle any file. Selective copying is possible, and several date-based organizations are offered. A typical DateTree session is as simple as dropping the files you want to organize onto the DateTree icon. DateTree remembers where the files should be put, and begins the copy with a click of the button. A comprehensive report is displayed after the copy with any errors or skipped files.
DateTree - Organize your files by date - EXIF Aware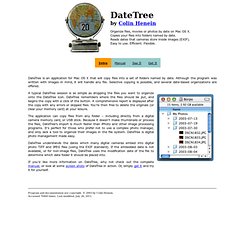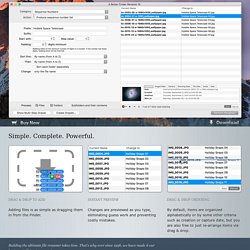 Building the ultimate file renamer takes time. That's why ever since 1996, we have made it our business to listen to our customers. A Better Finder Rename has long been the file renamer of choice for tens of thousands of professionals, businesses and hobbyists across the world, but that hasn't stopped us from continuing to perfect our product culminating now in the brand-new version 9.
A Better Finder Rename 8: The Batch File Renamer for Mac OS X
Read, Write and Edit Meta Information! Also available --> Utility to fix Nikon NEF images corrupted by Nikon software ExifTool is a platform-independent Perl library plus a command-line application for reading, writing and editing meta information in a wide variety of files. ExifTool supports many different metadata formats including EXIF, GPS, IPTC, XMP, JFIF, GeoTIFF, ICC Profile, Photoshop IRB, FlashPix, AFCP and ID3, as well as the maker notes of many digital cameras by Canon, Casio, FLIR, FujiFilm, GE, HP, JVC/Victor, Kodak, Leaf, Minolta/Konica-Minolta, Nikon, Olympus/Epson, Panasonic/Leica, Pentax/Asahi, Phase One, Reconyx, Ricoh, Samsung, Sanyo, Sigma/Foveon and Sony. ExifTool is also available as a stand-alone Windows executable and a Macintosh OS X package: (Note that these versions contain the executable only, and do not include the HTML documentation or other files of the full distribution above.)