Email
Imap. Procmail. ResendingMailWithHeaders - Spamassassin Wiki. Here's how to redirect (or "bounce") a mail message to another recipient.
This is important when training Bayes via mail (as described in ProcmailToForwardMail), for example. It's often critical to redirect the message, rather than forwarding. Forwarding loses all of the critical header information, which is much of what Bayes trains from. Here are directions for redirecting from different clients. Open Source Edition Downloads: Enterprise Messaging and Collaboration Software by Zimbra. Zimbra Collaboration Server (ZCS) Open Source Edition is available for you to test, evaluate, deploy, customize, and improve.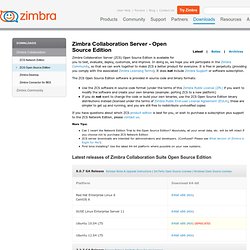 In doing so, we hope you will participate in the Zimbra Community, so that we can work together to make ZCS a better product for everyone. It is free in perpetuity (providing you comply with the associated Zimbra Licensing Terms). Claws Mail - the email client that bites! Home | Email Standards Project. Set-up Guide to "Gmail for your Domain" on Dreamhost (Inelegant Blog) Welcome to Postbox.
---