Dynamic
Dynamic tabs using jQuery - why and how to create it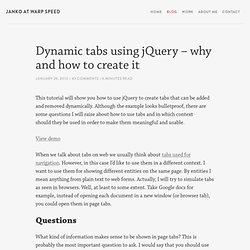 This tutorial will show you how to use jQuery to create tabs that can be added and removed dynamically. Although the example looks bulletproof, there are some questions I will raise about how to use tabs and in which context should they be used in order to make them meaningful and usable. View demo When we talk about tabs on web we usually think about tabs used for navigation. However, in this case I'd like to use them in a different context.
Clojure is a dynamic programming language that targets the Java Virtual Machine (and the CLR, and JavaScript). It is designed to be a general-purpose language, combining the approachability and interactive development of a scripting language with an efficient and robust infrastructure for multithreaded programming. Clojure is a compiled language - it compiles directly to JVM bytecode, yet remains completely dynamic. Every feature supported by Clojure is supported at runtime.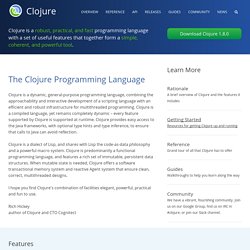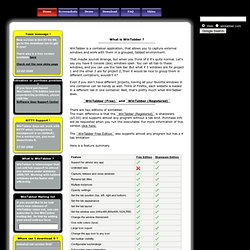 What is WinTabber ? WinTabber is a container application, that allows you to capture external windows and work with them in a grouped, tabbed environment. That maybe sounds strange, but when you think of it it's quite normal. Let's say you have 6 console (dos) windows open. You can alt-tab to these windows, and you can use the task bar.
WinTabber - Tab your terminal, shell, browser or favorite application ...