Drupal
Acquia Dev Desktop is a Drupal-specific xAMP stack installer, or "DAMP stack". It is the fastest way to set up Acquia Drupal to run locally on Windows® or a Mac®.
Drupal Stack Installer | Acquia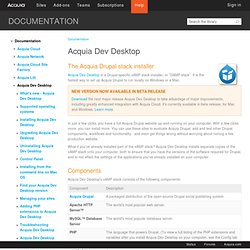 Introduction to Drupal | p2pu
Open Source Catholic | Advancing the Faith
Drupal Security White Paper | drupalsecurityreport.org
What is Pressflow? Pressflow is a distribution of Drupal with integrated performance, scalability, availability, and testing enhancements.
Pressflow makes Drupal scale | Four Kitchens: the Drupal experts