Drupal
Drupal Stack Installer | Acquia. The Acquia Drupal stack installer Acquia Dev Desktop is a Drupal-specific xAMP stack installer, or "DAMP stack".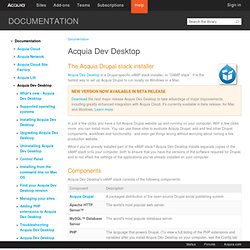 It is the fastest way to set up Acquia Drupal to run locally on Windows or a Mac. In just a few clicks, you have a full Acquia Drupal website up-and-running on your computer. With a few clicks more, you can install more. You can use these sites to evaluate Acquia Drupal, add and test other Drupal components, workflows and functionality - and even get things wrong without worrying about ruining a live, production website. Introduction to Drupal | p2pu. Open Source Catholic | Advancing the Faith. Drupal Security White Paper | drupalsecurityreport.org. Drupal Modules - Search, Rate, and Review Drupal Modules. Drupal - Content Management System. Pressflow makes Drupal scale | Four Kitchens: the Drupal experts. What is Pressflow?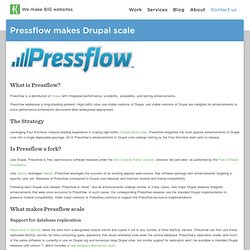 Pressflow is a distribution of Drupal with integrated performance, scalability, availability, and testing enhancements. Pressflow addresses a long-standing problem: High-traffic sites use stable versions of Drupal, and stable versions of Drupal are ineligible for enhancements to solve performance bottlenecks discovered after widespread deployment. The Strategy Leveraging Four Kitchens' industry-leading experience in scaling high-traffic, Drupal-based sites, Pressflow integrates the most popular enhancements to Drupal core into a single deployable package. All of Pressflow's enhancements to Drupal core undergo testing by the Four Kitchens team prior to release. Managing News.
---