Drupal
The Acquia Drupal stack installer Acquia Dev Desktop is a Drupal-specific xAMP stack installer, or "DAMP stack". It is the fastest way to set up Acquia Drupal to run locally on Windows or a Mac. In just a few clicks, you have a full Acquia Drupal website up-and-running on your computer. With a few clicks more, you can install more. You can use these sites to evaluate Acquia Drupal, add and test other Drupal components, workflows and functionality - and even get things wrong without worrying about ruining a live, production website.
Drupal Stack Installer | Acquia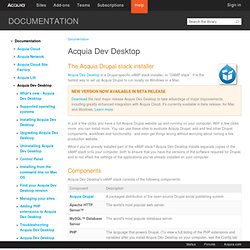 Introduction to Drupal | p2pu
Open Source Catholic | Advancing the Faith
On May 3, 2013, myself and three others, launched a new app into the world of iOS. We have been working on this app for what seems like forever. This app crosses over into my personal life, as well as business. Two years ago, my wife and I were trying to teach our kids a little more about the rich history the church has with Saints. Some of the more famous ones come to mind: St.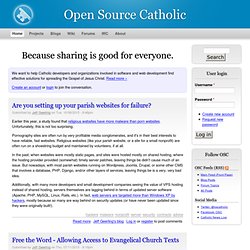 Drupal Security White Paper | drupalsecurityreport.org
Hello, and welcome to DrupalModules.com, a community-powered rating and review service dedicated to helping you find the best Drupal modules for your project! Need help finding the right Drupal module? Try Module Finder, a powerful new tool that searches as you type! Filter modules by category, version, title, or keywords, and watch the results update in real time.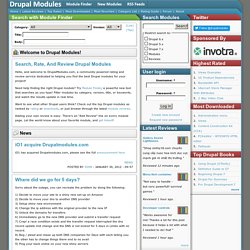 What is Pressflow? Pressflow is a distribution of Drupal with integrated performance, scalability, availability, and testing enhancements. Pressflow addresses a long-standing problem: High-traffic sites use stable versions of Drupal, and stable versions of Drupal are ineligible for enhancements to solve performance bottlenecks discovered after widespread deployment. The Strategy Leveraging Four Kitchens' industry-leading experience in scaling high-traffic, Drupal-based sites, Pressflow integrates the most popular enhancements to Drupal core into a single deployable package. All of Pressflow's enhancements to Drupal core undergo testing by the Four Kitchens team prior to release.
Pressflow makes Drupal scale | Four Kitchens: the Drupal experts