Driver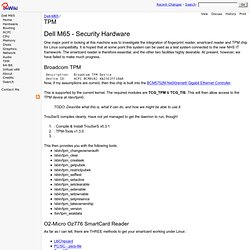 Installing Linux on a Dell Precision M65 Laptop
One major point in looking at this machine was to investigate the integration of fingerprint reader, smartcard reader and TPM chip for Linux compatibility. It is hoped that at some point this system can be used as a test system connected to the new NHS IT framework. The smartcard reader is therefore essential, and the other two facilities highly desirable. At present, however, we have failed to make much progress.
USB flash drives and other USB mass storage based devices are becoming more and more common. Unfortunately, they often do not come with drivers because Windows Me, 2000, XP and Vista all come with generic drivers already installed. This way all you need to do is plug the drive in, Windows will recognise it and you will automatically see the drive in My Computer. Windows 98, especially in it's second edition (also known as Windows 98SE), handles USB fairly well, however there are no generic/universal mass storage device drivers preinstalled in the operating system, so you will need to install some additional drivers for it. Some manufacturers do however, provide the Windows 98 drivers on CD, others have them available to download, and others simply do not have them available at all. If you are using Windows 98, and you do not know the manufacturer of the storage device, or you can't find the drivers, what can you do?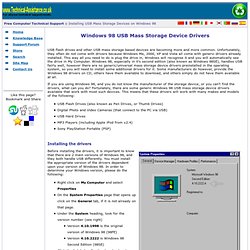 Windows 98 USB Mass Storage Device Drivers
USB/IP Project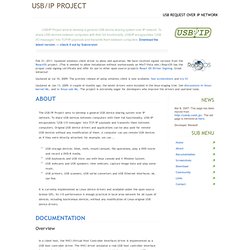 USB/IP Project aims to develop a general USB device sharing system over IP network. To share USB devices between computers with their full functionality, USB/IP encapsulates "USB I/O messages" into TCP/IP payloads and transmits them between computers. Download the latest version, or check it out by Subversion.
Check out the new macam wiki! Hopefully this can become a useful tool for all users. macam is a driver for USB webcams on Mac OS X.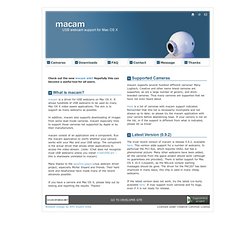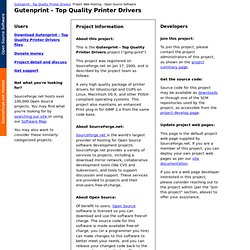 Gutenprint Printer Drivers
Project Information About this project: This is the Gutenprint - Top Quality Printer Drivers project ("gimp-print") This project was registered on SourceForge.net on Jan 17, 2000, and is described by the project team as follows: A very high quality package of printer drivers for Ghostscript and CUPS on Linux, Macintosh OS X, and other POSIX-compliant operating systems.