Documentation
dcov - a ruby documentation analyzer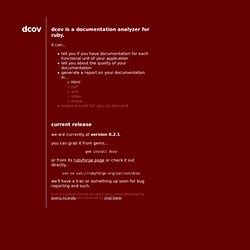 dcov is a documentation analyzer for ruby. it can... tell you if you have documentation for each functional unit of your applicationtell you about the quality of your documentationgenerate a report on your documentation in... htmlpdfxmllatexmore...prepare sushi for you on demand current release
Procmail documentation project homepage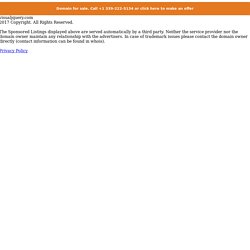 This is a alternative interface to browse the Official jQuery Documentation that can be found on GitHub . The aim of this project is to get out of the way of your development work. Quickly switch to this docs and find what you are looking for.
The Mason Book
Ruby on Rails guides
Start Here Getting Started with Rails Everything you need to know to install Rails and create your first application. Models
Summary An up to date book on Ruby programming, written in a style described as "a beautiful display of pragmatically chunky bacon, wrapped in a nutshell." Or something like that. Mr.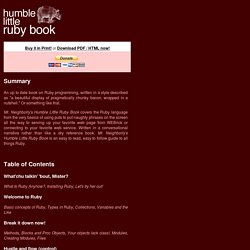 Mr. Neighborly's Humble Little Ruby Book
Realtime Nexus Digital Library - Free eBooks and publications for information technology professionals and executives
Sign up for our Realtime Nexus newsletters and book alerts and discover when new books on your favorite IT topics are available! By sponsoring a book with Realtime Publishers, you will connect your technology company with thousands of IT professionals who need information on the technology topic of your choice. Realtime Publishers works with only the best authors in the IT field to produce expert-level publications that appeal to and educate the IT professional audience. Visit sponsorships.realtimepublishers.com to learn more about our wide array of sponsorship and content marketing opportunities.