Controller
Sign In Read anywhere. With Feedbooks, enjoy your books on any device : smartphones, tablets or dedicated readers. Browse Best Sellers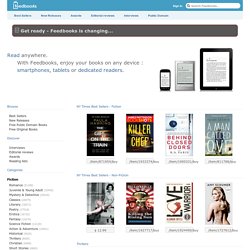 Windows Server 2003 ADSI Edit - Download explore Active Directory examples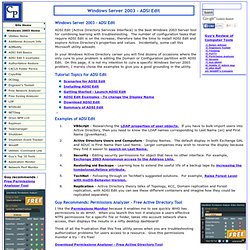 ADSI Edit (Active Directory Services Interface) is the best Windows 2003 Server tool for combining learning with troubleshooting. The number of configuration tasks that require ADSI Edit is on the increase; therefore take the time to install ADSI Edit and explore Active Directory's properties and values. Incidentally, some call this Microsoft utility adsiedit. In your Windows Active Directory career you will find dozens of occasions where the only cure to your problem is editing the Domain or Configuration partition with ADSI Edit. On this page, it is not my intention to cure a specific Windows Server 2003 problem, I merely chose the examples to give you a good grounding in the utility.
Sutus
Office Appliance
BareMetal: the web-hosting specialists;
Welcome to BareMetal.com Inc., web-hosting and domain-registration specialists since 1995. Our fast reliable servers and web solutions allow companies of all sizes to build and maintain a solid presence on the Internet. If you're implementing a simple site, maintaining a complex web-based business, or something in between, BareMetal and our partners offer everything you need to help you achieve your business objectives. (Our products include: web hosting, domain registrations and a wide range of tools) Our servers are monitored by multiple systems, 24 hours a day. Should a problem arise, a technician will be paged within 5 minutes.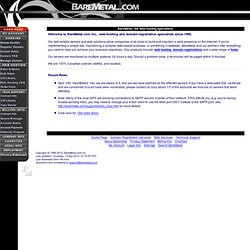 Feature: Host Your Domain with Free Apps