Controller
Windows Server 2003 ADSI Edit - Download explore Active Directory examples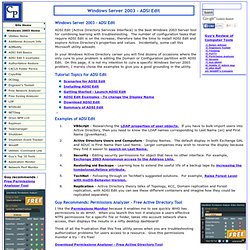 ADSI Edit (Active Directory Services Interface) is the best Windows 2003 Server tool for combining learning with troubleshooting. The number of configuration tasks that require ADSI Edit is on the increase; therefore take the time to install ADSI Edit and explore Active Directory's properties and values. Incidentally, some call this Microsoft utility adsiedit. In your Windows Active Directory career you will find dozens of occasions where the only cure to your problem is editing the Domain or Configuration partition with ADSI Edit. On this page, it is not my intention to cure a specific Windows Server 2003 problem, I merely chose the examples to give you a good grounding in the utility.
Sutus
Office Appliance
BareMetal: the web-hosting specialists;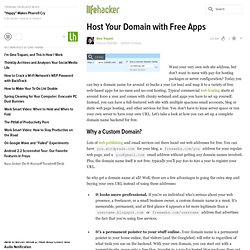 Feature: Host Your Domain with Free Apps
SExpand Want your very own web site address, but don't want to mess with pay-for hosting packages or server configuration? Today you can buy a domain name for around 10 bucks a year (or less) and map it to a variety of free web-based apps for no-mess and no-cost hosting. Typical commercial web hosting starts at around $100 a year and comes with clunky webmail and apps you have to set up yourself.