Bpel
Activiti
Today, we have released Activiti 5.13. This release includes a big effort to improve our REST API. It now offers the same functionality as the Java API!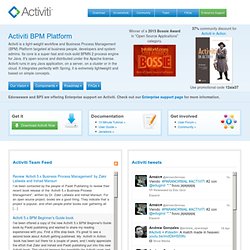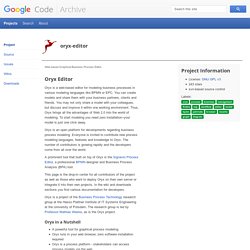 oryx-editor - Project Hosting on Google Code
Oryx is a web-based editor for modeling business processes in various modeling languages like BPMN or EPC. You can create models and share them with your business partners, clients and friends. You may not only share a model with your colleagues, but discuss and improve it within one working environment.
Orchestra: Open Source BPEL / BPM Solution - Orchestra : The Open Source BPEL solution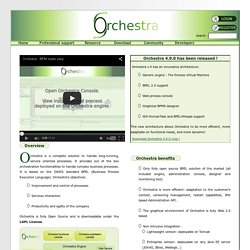 Orchestra is a complete solution to handle long-running, service oriented processes. It provides out of the box orchestration functionalities to handle complex business processes. It is based on the OASIS standard BPEL (Business Process Execution Language).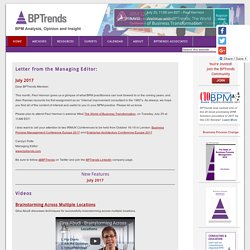 Facebook Pinterest BarraPunto BlinkList blogmarks connotea Current Delicious Digg Diigo DZone eKudos Fark FriendFeed Google GooglePlus Gwar HackerNews Haohao HealthRanker Hemidemi Hyves Kirtsy LaTafanera LinkArena LinkaGoGo LinkedIn Linkter Meneame MisterWong Mixx muti MyShare MySpace Netvibes NewsVine Netvouz NuJIJ Posterous PDF Print Ratimarks Reddit Scoopeo Segnalo Slashdot Sphinn StumbleUpon Technorati ThisNext Tumblr Twitter Upnews Vkontakte Wykop Xerpi Yigg Yahoo SheToldMe Diggita BESbswyBESbswyBESbswyBESbswy
OpenSpan - Home Page
A successful process improvement software application implementation involves several different areas of your organization beginning with IT and process related functions and personnel (Enterprise Architects, IT & Business Analysts, etc.) and ultimately rolled out into departments/operations (customer service, back office, call/contact centers, etc) where multiple users and existing ERP and/or legacy systems can realize the greatest benefits. OpenSpan's process improvement software solutions have been specifically developed to achieve benefits for the end user including: increased productivity and user satisfaction; reduced training time for new users; and, decreased opportunities for fraud. Process Improvement Software Solutions Process improvement software solutions ensure that a company's business units, users and systems are all achieving their maximum productivity potential allowing them to combine to reach unchartered goals in terms of revenues, productivity and customer service.