Coffee
Jittery Joe's Coffee
Green Coffee from Cafe Lobo
Organic Certification
U.S. producers are turning to certified organic farming systems as a potential way to lower input costs, decrease reliance on nonrenewable resources, capture high-value markets and premium prices, and boost farm income. Organic farming systems rely on ecologically based practices such as cultural and biological pest management, exclusion of all synthetic chemicals, antibiotics, and hormones in crop and livestock production.
Fair Trade USA
Specialty Coffee Association of America
Diedrich Manufacturing, Inc. - Diedrich Coffee Roasters - Coffee Roasting Equipment
CoffeeGeek
Counter Culture Coffee
Roasting January 13th EL Injerto, GuatemalaPandora del Carmen Pacamara Lot Tasting Notes:Dark Molasses | Cashew | Grapefruit $24 per 8 ounces ~ Click here to order Please note:Orders for our limited roasts must be placed by 6:00am (Eastern Time) on their roasting date. ~ Thanks!
Terroir Select Coffees
Intelligentsia Coffee
Blue Bottle Coffee
Sweet Maria's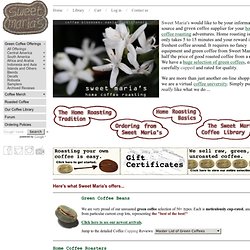 Sweet Maria's would like to be your information source and green coffee supplier for your home coffee roasting adventures. Home roasting is easy! It only takes 5 to 15 minutes and your reward is the freshest coffee around.