Inspiration
Behind the movie magic: a 4k video editing setup – Computer Chips & Hardware Technology. Tom Lowe, a budding filmmaker, and self-proclaimed "Terrence Malick disciple," is setting out to release his debut movie TimeScapes.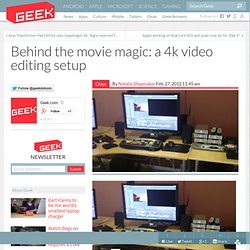 The movie is a portrait on the American Southwest, and watching some of his production footage that he has posted to YouTube, one starts to realize why Terrence Malick is his hero, and then one starts to wonder why there isn't a petition to get David Attenborough on board to narrate. But let's not forget that capturing these moments requires something along the lines of a Red Epic and Canon digial still cameras, as well as a helping of computer horsepower to piece it all together.
In a recent video, Lowe let film and tech enthusiasts into his studio to gaze upon his desk space (spoiler: you won't find any devices with a fruit-shaped logo in his work area). The footage for TimeScapes, according to Lowe, comes in at around 15TB. HpJJo. Wolf Spirit Meaning, Symbols, and Totem. SvkgL. Cities & Typography on the Behance Network. Search results.
Five Manifestos for the Creative Life. By Kirstin Butler How a numbered list can start a personal revolution.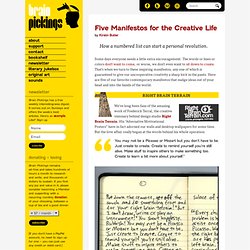 Some days everyone needs a little extra encouragement. Randy Pausch Last Lecture: Achieving Your Childhood Dreams. Nic Marks: The Happy Planet Index. Sucker for Soccer on the Behance Network.
---