Inspiration
Behind the movie magic: a 4k video editing setup – Computer Chips & Hardware Technology
T om Lowe, a budding filmmaker, and self-proclaimed "Terrence Malick disciple," is setting out to release his debut movie TimeScapes . The movie is a portrait on the American Southwest, and watching some of his production footage that he has posted to YouTube , one starts to realize why Terrence Malick is his hero, and then one starts to wonder why there isn't a petition to get David Attenborough on board to narrate. But let's not forget that capturing these moments requires something along the lines of a Red Epic and Canon digial still cameras, as well as a helping of computer horsepower to piece it all together.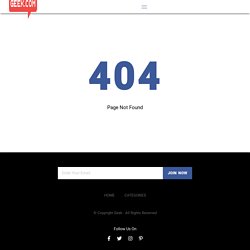 HpJJo
Wolf Spirit Meaning, Symbols, and Totem
svkgL
Thanks for Dinner & Sex
Cities & Typography on the Behance Network
search results
by Kirstin Butler How a numbered list can start a personal revolution. Some days everyone needs a little extra encouragement.