Tutorials
Flash and ActionScript Tutorials. InDesign Training & Tutorials. 50 Totally Free Lessons in Graphic Design Theory. Basics of Photoshop: Basic Drawing with the Pen Tool. First of all, LIfehacker is great!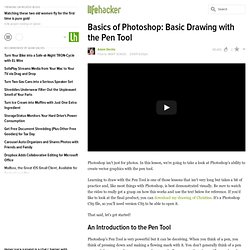 Thank you, guys and girls. But wow, this new layout has really impacted the site. I cannot log in (with Cerberus_tm or Cerberus_new); it is very slow on my PC; some pages remain blank and never load. Frankly, Lifehacker is unusable for me now, and I have tried it on FF and IE. Disabling Noscript and Adblock didn't help — not that I'd consider doing that for Lifehacker, but just as a test. Adobe Photoshop Tutorials from Beginner to Advanced. The Ultimate Collection of CSS3 Tutorials for Developers.
CSS and CSS3 are dynamic to web designing and development.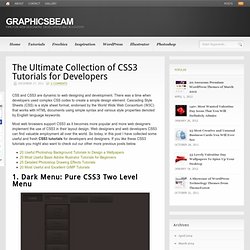 There was a time when developers used complex CSS codes to create a simple design element. Cascading Style Sheets (CSS) is a style sheet format, endorsed by the World Wide Web Consortium (W3C) that works with HTML documents using simple syntax and various style properties denoted by English language keywords. Interaction design and rapid prototyping with Fireworks. In the following four short video presentations, I demonstrate how to use Adobe Fireworks CS4 for information and interaction design and creating interactive prototypes quickly, and how you can use Fireworks as a design tool that fits into your complete design process, from concept to development.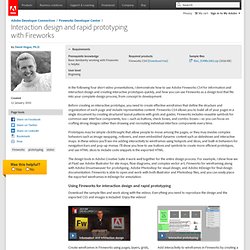 Before creating an interactive prototype, you need to create effective wireframes that define the structure and organization of each page and include representative content. Fireworks CS4 allows you to build all of your pages in a single document by creating structured layout patterns with grids and guides. Fireworks includes reusable symbols for common user interface components, too—such as buttons, check boxes, and combo-boxes—so you can focus on crafting strong designs rather than drawing and recreating individual interface components every time. Design Learning Guide for Fireworks. Adobe Fireworks is a powerful web design and prototyping tool that provides robust features to create, edit, and optimize your artwork for delivery in a wide variety of file formats.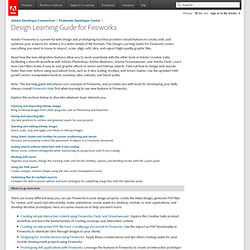 This Design Learning Guide for Fireworks covers everything you need to know to import, scale, align, edit, slice, and export high-quality graphic files. Read how the new integration features allow you to work seamlessly with the other tools in Adobe Creative Suite, facilitating a smooth workflow with Adobe Photoshop, Adobe Illustrator, Adobe Dreamweaver, and Adobe Flash. Learn how Live Filters make it easy to add graphic effects to vector and bitmap objects. Find out how to design web layouts faster than ever before using specialized tools, such as 9-slice scaling, tooltips, and Smart Guides. Use the updated Path panel's vector manipulation tools to combine, alter, extrude, and blend paths. TV | Learn Fireworks CS4. TV | Learn Flash Professional CS5 & CS5.5. TV | Learn Photoshop CS5. TV | Learn InDesign CS5 & CS5.5. TV | Learn Dreamweaver CS5 & CS5.5.
TV | Learn Illustrator CS5. TV | Learn Flash Catalyst CS5.
---