Tutorials
InDesign Training & Tutorials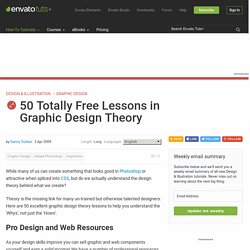 While many of us can create something that looks good in Photoshop or attractive when spliced into CSS, but do we actually understand the design theory behind what we create? Theory is the missing link for many un-trained but otherwise talented designers. Here are 50 excellent graphic design theory lessons to help you understand the 'Whys', not just the 'Hows'. Typography 1. Typography, Part 1"Good typography depends on the visual contrast between one font and another, and the contrast between text blocks and the surrounding empty space."Visit Lesson 2.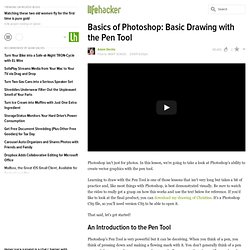 Basics of Photoshop: Basic Drawing with the Pen Tool
Photoshop isn't just for photos. In this lesson, we're going to take a look at Photoshop's ability to create vector graphics with the pen tool.
CSS and CSS3 are dynamic to web designing and development. There was a time when developers used complex CSS codes to create a simple design element. Cascading Style Sheets (CSS) is a style sheet format, endorsed by the World Wide Web Consortium (W3C) that works with HTML documents using simple syntax and various style properties denoted by English language keywords.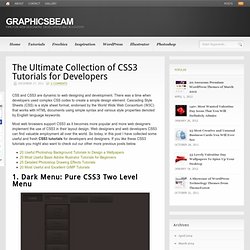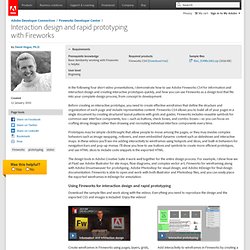 In the following four short video presentations, I demonstrate how to use Adobe Fireworks CS4 for information and interaction design and creating interactive prototypes quickly, and how you can use Fireworks as a design tool that fits into your complete design process, from concept to development.
Interaction design and rapid prototyping with Fireworks
Design Learning Guide for Fireworks
Adobe Fireworks is a powerful web design and prototyping tool that provides robust features to create, edit, and optimize your artwork for delivery in a wide variety of file formats. This Design Learning Guide for Fireworks covers everything you need to know to import, scale, align, edit, slice, and export high-quality graphic files.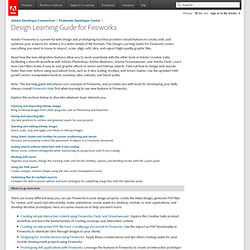 TV | Learn Fireworks CS4
TV | Learn Flash Professional CS5 & CS5.5
TV | Learn InDesign CS5 & CS5.5
TV | Learn Flash Catalyst CS5