Misc
Stiff plastic pipe smoking | Port Magazine. Jukka Viitasara and Karl Berglund launch their groundbreaking pipe, merging briar wood with thermo plastic Words David Hellqvist PhotographyNikolas VentourakisThere is no point in changing the design of a classic product unless you are improving its functionality.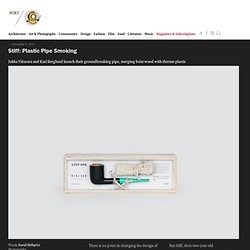 Full stop. Too many designers and manufacturers let us down by tinkering with an already perfect object. On the other hand, if your objective is to push the boundaries, develop concepts and further ideas, then be my guest: fiddle away. MoodINQ - Programmable Tattoo System. The Inkless Metal Pen. Graphite is for people who aren't confident in what they're writing and accountants.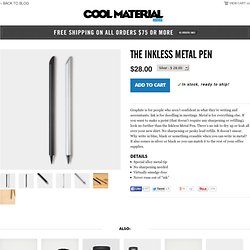 Ink is for doodling in meetings. Metal is for everything else. If you want to make a point (that doesn't require any sharpening or refilling), look no further than the Inkless Metal Pen. There's no ink to dry up or leak all over your new shirt. Bicycle Wine Rack. Generally, wine and bicycles go together like oil and water.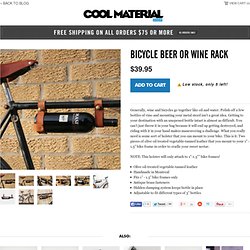 Polish off a few bottles of vino and mounting your metal steed isn't a great idea. Getting to your destination with an unopened bottle intact is almost as difficult. You can't just throw it in your bag because it will end up getting destroyed, and riding with it in your hand makes maneuvering a challenge. What you really need is some sort of holster that you can mount to your bike. This is it. Metal Inkless Pen + Key Ring. If you're looking for a permanent, more authoritarian point when writing, you use a pen not a pencil.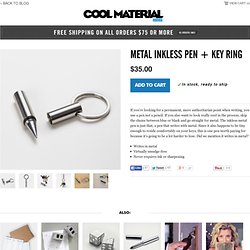 If you also want to look really cool in the process, skip the choice between blue or black and go straight for metal. The inkless metal pen is just that, a pen that writes with metal. Since it also happens to be tiny enough to reside comfortably on your keys, this is one pen worth paying for because it's going to be a lot harder to lose. Did we mention it writes in metal? MY ECO CAN | Green, Canteen, Water Bottle. It's been over a year now, and these really aren't all I had hoped.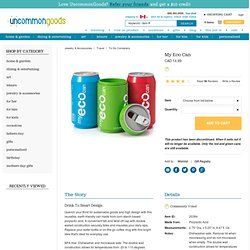 I love the insulation, the BPA-free, the size, dishwasher safe... But the bottom line is that they leak. We use them in our lunches and often have milk packed in them. The can is not turned upside down or even on its side. Yet every day, there is a small puddle of milk in the bottom of the lunch pail and other food has milk on it.
---