Negative
The stock market crash of 1929 marked the start of the greatest depression in modern history with some effects felt through 1945. In economics , a depression is a sustained, long-term downturn in economic activity in one or more economy. It is a more severe downturn than a recession , which is seen by some economists as part of the modern business cycle . Considered by some economists to be a rare and extreme form of recession, a depression is characterized by its length; by abnormally large increases in unemployment ; falls in the availability of credit , often due to some kind of banking or financial crisis; shrinking output as buyers dry up and suppliers cut back on production and investment; large number of bankruptcies including sovereign debt defaults; significantly reduced amounts of trade and commerce, especially international; as well as highly volatile relative currency value fluctuations, most often due to devaluations .
Depression (economics) - Wikipedia, the free encyclopedia - Iceweasel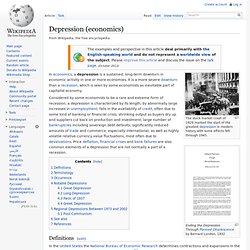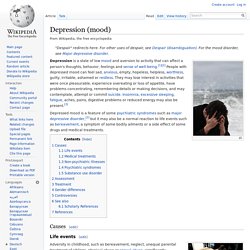 Depression (mood) - Wikipedia, the free encyclopedia - Iceweasel
Depression is a state of low mood and aversion to activity that can have a negative effect on a person's thoughts, behavior, feelings, world view , and physical well-being . [ 1 ] Depressed people may feel sad, anxious , empty, hopeless, worried, helpless, worthless , guilty, irritable, hurt, or restless. They may lose interest in activities that once were pleasurable, experience loss of appetite or overeating, have problems concentrating, remembering details, or making decisions, and may contemplate or attempt suicide . Insomnia , excessive sleeping , fatigue , loss of energy, or aches, pains, or digestive problems that are resistant to treatment may also be present. [ 2 ] Depressed mood is not necessarily a psychiatric disorder.
The Stanford prison experiment was a study of the psychological effects of becoming a prisoner or prison guard . The experiment was conducted at Stanford University from August 14 to August 20 of 1971 by a team of researchers led by psychology professor Philip Zimbardo . [ 1 ] It was funded by the US Office of Naval Research [ 2 ] and was of interest to both the US Navy and Marine Corps as an investigation into the causes of conflict between military guards and prisoners. 24 male students out of 75 were selected to take on randomly assigned roles of prisoners and guards in a mock prison situated in the basement of the Stanford psychology building. The participants adapted to their roles well beyond Zimbardo's expectations, as the guards enforced authoritarian measures and ultimately subjected some of the prisoners to psychological torture .