Emacs
Emacs Starter Kit. Install Emacs version 24 or greater.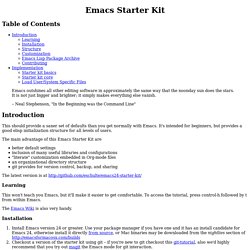 Use your package manager if you have one and it has an install candidate for Emacs 24, otherwise install it directly from source, or Mac binaries may be downloaded from the nightlies section of a version of the starter kit using git – if you're new to git checkout this git-tutorial, also we'd highly recommend that you try out magit the Emacs mode for git interaction. git clone Move the resulting directory to ~/.emacs.d Launch Emacs! After setup you may need to restart Emacs one or twice while it downloads packages from ELPA – errors parsing html from *tromey.com:80* can generally be safely ignored.
Examples. Extensies. Blogs. Emacs tutorials. Search Results. Menu Sort by Default Lensrank Recently Updated Congratulations!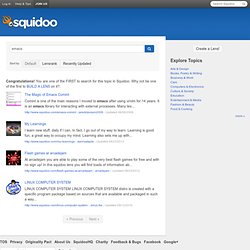 You are one of the FIRST to search for this topic in Squidoo. M-x all-things-emacs - Iceweasel. Minor emacs wizardry - Iceweasel. Newest 'emacs' Questions - Stack Overflow - Iceweasel. JDEE | SourceForge.
---