Emacs tutorials
Dotprogramming
Site Map
Python Programming In Emacs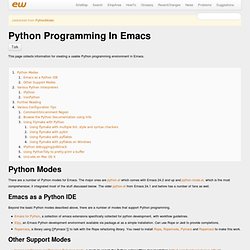 This page collects information for creating a usable Python programming environment in Emacs. Python Modes
An Introduction to Programming in Emacs Lisp (Third Edition) - Table of Contents
Emacs Lisp Reference Manual
This is edition 3.0 of the GNU Emacs Lisp Reference Manual, corresponding to Emacs version 23.3. The homepage for GNU Emacs is at http://www.gnu.org/software/emacs/ .
Releases | Supported Platforms | Obtaining Emacs | Documentation | Support | Further information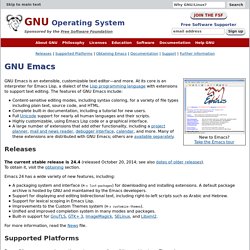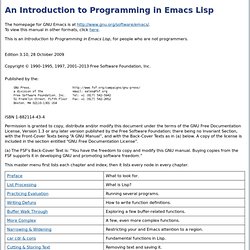 Programming in Emacs Lisp
This is an Introduction to Programming in Emacs Lisp , for people who are not programmers.
A Tutorial Introduction to Emacs - Iceweasel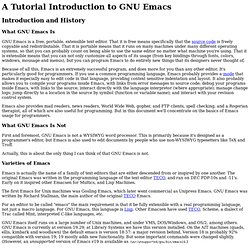 Introduction and History
This emacs tutorial is designed for programers & scientists who wish to learn emacs to get things done quickly, without spending a lot time on Emacs's special terminologies & methods. For programers, knowing emacs benefits you for life. For new articles, subscribe: Xah Emacs Blog .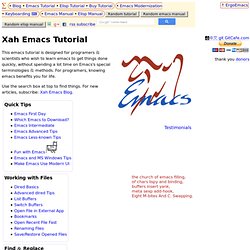 Xah Emacs Tutorial - Iceweasel
Emacs Tutorial | Free Emacs Tutorial | Learn Emacs | Emacs Tutorial | Emacs Books | Emacs Interview Questions | Emacs FAQ | Emacs Jobs | Emacs Preparation - Iceweasel
HTML Editing With Emacs - Iceweasel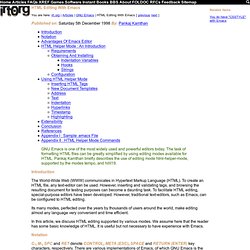 GNU Emacs is one of the most widely used and powerful editors today.
Hacking Python With Emacs :: DenkzeitWiki - Iceweasel
A Tutorial Introduction to Emacs - Iceweasel
Mastering Emacs