Gutiylla
Emili
Proinn.
Formació (Lynda.com)
Comunication. Ideas. Blogs. Ruby on Rails. MMR. Desing. Networking. VT. Investigació Empresa i desenvolupament. Open Source.
Linux
Freelance. OVH servidor. Mysql. Investigació. CSS i Web. Formacio. Support -- Knowledge Base -- Using inadyn With DynDNS.com Servic. Inadyn is a C based client used to update DNS entries.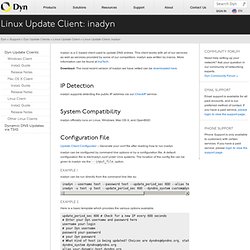 This client works with all of our services as well as services provided by some of our competitors. inadyn was written by inarcis. More information can be found at InaTech. Download: The most recent version of inadyn we have vetted can be downloaded here. IP Detection inadyn supports detecting the public IP address via our CheckIP service. Innocons. Max Pictures' Blather » Blog Archive » LOST labels for your DHAR.
Since I apparently haven't tired of converting everything in the larder to DHARMA Initiative-brand products it seems that a singular repository for all these LOST labels is in order.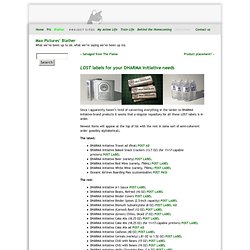 Newest items will appear at the top of list with the rest in some sort of semi-coherent order (possibly alphabetical). The latest: Universitat Politècnica de Catalunya, School of Professional & E. Uso de cookies Utilizamos cookies propias y de terceros para mejorar nuestros servicios.Si continuas navegando consideramos que aceptas su uso.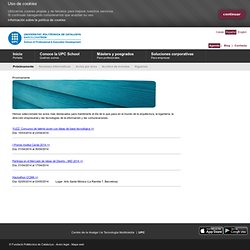 Información sobre la política de cookies Próximamente Hemos seleccionado los actos más destacados para mantenerte al día de lo que pasa en el mundo de la arquitectura, la ingeniería, la dirección empresarial y las tecnologías de la información y las comunicaciones. Gapminder: Unveiling the beauty of statistics for a fact based w. Guerra Creativa | Concursos creativos – diseño de logo, diseño w. Collabtive Forum • Index page. View unanswered posts News and Announcements News and Announcements regarding Collabtive 55 Topics 167 Posts Last post by Eva 29.12.2013, 02:00 General General Discussion around Collabtive 405 Topics 1375 Posts Last post by meiroc 18.04.2014, 18:51 Feature Requests You want to see a new feature?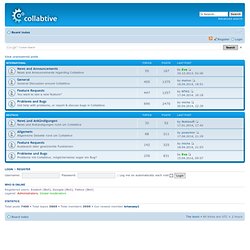 447 Topics 1257 Posts Last post by NTKG 17.04.2014, 16:18 Problems and Bugs Get help with problems, or report & discuss bugs in Collabtive 690 Topics 2470 Posts Last post by micha 20.04.2014, 22:39 News und Ankündigungen News und Ankündigungen rund um Collabtive 32 Topics 52 Posts Last post by Nobissoft 17.01.2014, 17:42 Allgemein Allgemeine Debatte rund um Collabtive 68 Topics 211 Posts Last post by pxworker 17.04.2014, 21:29 Feature Requests Austausch über gewünschte Funktionen 142 Topics 325 Posts Last post by micha 18.04.2014, 21:03 Probleme und Bugs Probleme mit Collabtive, möglicherweise sogar ein Bug?
DynDNS.com - Free Domain Name, Managed DNS, Email Services. CCOC: Projects. Support -- Knowledge Base -- Category: DynDNS.com Services. Dyn ≡ Menu Sign In Support Dyn » Support DNS & Domains.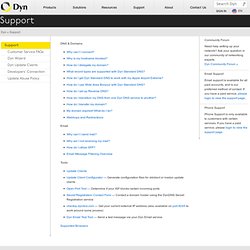 Innovación Sistemática. Linux Para Todos - Cómo configurar un servidor de nombres de dom. TurnKey Linux Virtual Appliance Library | Virtual Appliances for. Firebug.
---
PED Nov 26 2009

Hi Emili, welcome on Pearltrees!
---