SEO
Google's Matt Cutts: Don't Duplicate Your Meta Descriptions. Google's Matt Cutts, the head of search spam, released a video today providing an SEO tip on meta descriptions.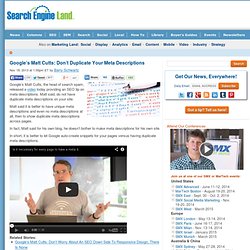 Matt said, do not have duplicate meta descriptions on your site. Matt said it is better to have unique meta descriptions and even no meta descriptions at all, then to show duplicate meta descriptions across pages. In fact, Matt said for his own blog, he doesn't bother to make meta descriptions for his own site. In short, it is better to let Google auto-create snippets for your pages versus having duplicate meta descriptions. Related Stories: Now Updated: The Periodic Table Of SEO Success Factors. Two years ago, we released "The Periodic Table Of SEO Ranking Factors."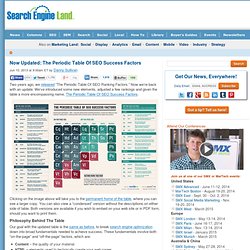 Now we're back with an update. We've introduced some new elements, adjusted a few rankings and given the table a more encompassing name, The Periodic Table Of SEO Success Factors. Clicking on the image above will take you to the permanent home of the table, where you can see a larger copy. SEO Failure? Where to Point the Fingers. Many companies as well as clients have a difficult time accepting that they may have been the reason for an SEO failure.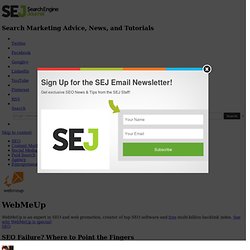 In most situations, the blame goes immediately to the SEO company, department, or expert, and rightfully so. These are the people in charge of making sure SEO succeeds, so these are the people that will most likely take the blame (and be happy to do it). However, it's important to realize that just because they are forced (in a sense) to take the blame doesn't mean they are actually to blame. The Client vs. Share photos and videos on Twitter. Photo by seo_nut. Photo by seo_nut. New Ways To Track Keyword Rank (for Free) Tracking keyword rank is as old as the SEO industry itself.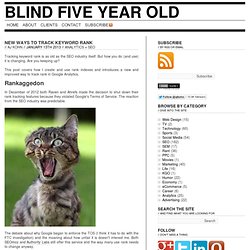 But how you do (and use) it is changing. Are you keeping up? Keyword Research – Developing an Effective SEO Strategy. Launching a site is just like preparing for war.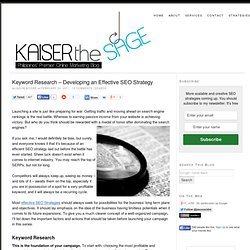 Getting traffic and moving ahead on search engine rankings is the real battle. Whereas to earning passive income from your website is achieving victory. Fun with SEO / What I think I do #SEO. SEO is Mostly About Quality Copywriting And Keyword Research. If you would like to have the competitive edge over your competition, it might be a good idea to know why they are so successful and which tools they are using that is getting them there.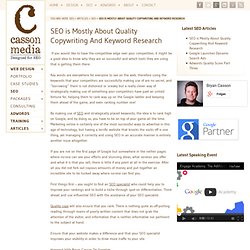 Key words are everywhere for everyone to see on the web, therefore using the keywords that your competitors are successfully making use of are no secret, and "borrowing" them is not dishonest or sneaky but a really clever way of strategically making use of something your competitors have paid an untold fortune for, helping them to rank way up on the Google ladder and keeping them ahead of the game, and even ranking number one! By making use of SEO and strategically placed keywords, the idea is to rank high on Google, and by doing so, you have to be on top of your game all the time.
Excel and Google Docs: Tools for the Ultimate SEO Dashboard. I love SEO tools.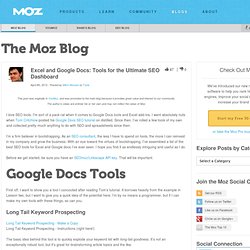 I'm sort of a pack-rat when it comes to Google Docs tools and Excel add-ins. I went absolutely nuts when Tom Critchlow posted his Google Docs SEO tutorial on distilled. Since then, I've rolled a few tools of my own and collected pretty much anything to do with SEO and spreadsheets since then. I'm a firm believer in bootstrapping. How to Stop Over Optimizing and Start Creating for SEO - Whiteboard Friday. Is your website hurting because of over optimization?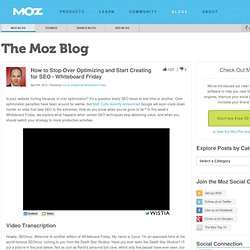 It's a question every SEO faces at one time or another. Over optimization penalties have been around for awhile, but Matt Cutts recently announced Google will soon crack down harder on sites that take SEO to the extremes. Content Curation Guide for SEO - What, How, Why. The author's posts are entirely his or her own (excluding the unlikely event of hypnosis) and may not always reflect the views of Moz.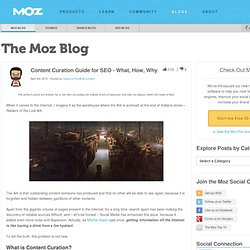 When it comes to the Internet, I imagine it as the warehouse where the Ark is archived at the end of Indiana Jones – Raiders of the Lost Ark. The Ark is that outstanding content someone has produced and that no other will be able to see again, because it is forgotten and hidden between gazillions of other contents. Apart from the gigantic volume of pages present in the Internet, for a long time, search spam has been making the discovery of reliable sources difficult; and – let's be honest – Social Media has enhanced this issue, because it added even more noise and dispersion. Actually, as Mitchel Kapor said once, getting information off the Internet is like having a drink from a fire hydrant.
---