Twitter for Journalists
Why Twitter matters for media organisations | Alan Rusbridger | Technology. I've lost count of the times people – including a surprising number of colleagues in media companies – roll their eyes at the mention of Twitter.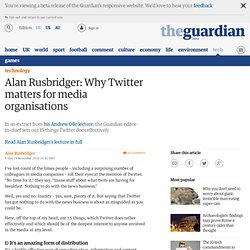 "No time for it," they say. "Inane stuff about what twits are having for breakfast. 10 Advanced Twitter Search Tricks to search twitter better. With Twitter, there is always an over load of information that its quite hard to keep up with the trend, if you're not moving along with it.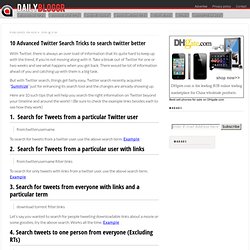 Take a break out of Twitter for one or two weeks and see what happens when you get back. There would be lot of information ahead of you and catching up with them is a big task. But with Twitter search, things get fairly easy. Twitter search recently acquired "Summize" just for enhancing its search tool and the changes are already showing up. 55 Interesting Social Media Infographics. How Twitter has become the people's voice on the eve of its fifth birthday | Technology | The Observer. Blame Stephen Fry.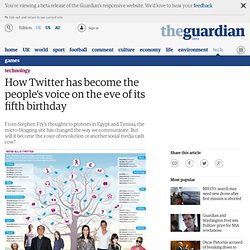 In Twitter the preening polymath found his true calling, sending out an ever changing and oddly riveting mix of self-promotion and stream of consciousness as he tweeted his every thought and photo. His thoughts on Boyzone singer Stephen Gately, a picture of a parrot, a call for charity in Sri Lanka, Stephen in a balloon hat, all mixed in with his Wildean wit: "Streets of London fantastically full of young people. Either it's half-term or truancy in this country is running wildly out of control. " Twitter Topics and Why They Become Popular. How Journalists Can Leverage Social Media. Jason Falls Last summer I spent a good deal of time researching and preparing a presentation for Blog World & New Media Expo on putting social media in the newsroom.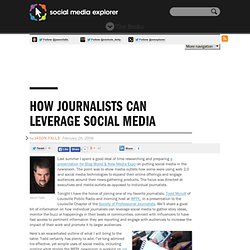 The point was to show media outlets how some were using web 2.0 and social media technologies to expand their online offerings and engage audiences around their news-gathering products. The focus was directed at executives and media outlets as opposed to individual journalists. Twitter Isn't Journalism, Or Is It? Perhaps It's the Wrong Question to Ask Brian Solis. InShare34 I was asked to enter the Bloomberg BusinessWeek Debate Room to make the case "for" Twitter as a platform for journalism – at least that's how I interpreted it.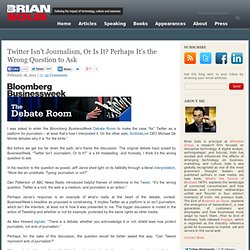 On the other side, ScribbleLive CEO Michael De Monte debates why it is "for the birds." But before we get too far down the path, let's frame the discussion. The original debate topic posed by BusinessWeek, "Twitter Isn't Journalism, Or Is It?" Social media for journalists: 10 essential tools | Alexandra Samuel. This is the final post in a series, Social media for journalists.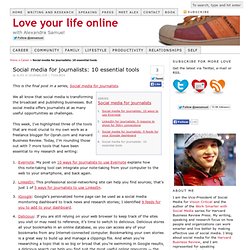 We all know that social media is transforming the broadcast and publishing businesses. But social media offers journalists at as many useful opportunities as challenges. This week, I've highlighted three of the tools that are most crucial to my own work as a freelance blogger for Oprah.com and Harvard Business Review. Today, I'm rounding those out with 7 more tools that have been essential to my research and writing:
Twitter: tweeting louder than ever | Technology. Twitter: about 40% of tweets originate on a mobile device.
Photograph: Sarah Lee for the Guardian 'Just setting up my twttr", wrote Jack Dorsey, Twitter's co-founder and chairman, on 21 March 2006 at 12.50pm, Pacific Daylight Time. How Journalists are Using Social Media for Real Results. The Real Results series is supported by Gist, an online service that helps you build stronger relationships.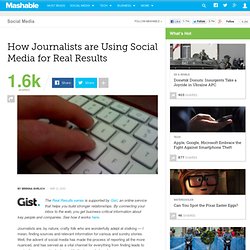 By connecting your inbox to the web, you get business-critical information about key people and companies. See how it works here. Journalists are, by nature, crafty folk who are wonderfully adept at stalking — I mean, finding sources and relevant information for various and sundry stories. Well, the advent of social media has made the process of reporting all the more nuanced, and has served as a vital channel for everything from finding leads to contacting sources to sharing and furthering one's brand. Ethics of social media for journalists | Save the Media. If you're new here, you may want to subscribe to my RSS feed.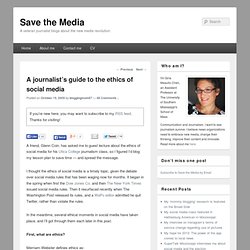 Thanks for visiting! A friend, Glenn Coin, has asked me to guest lecture about the ethics of social media for his Utica College journalism class, so I figured I'd blog my lesson plan to save time — and spread the message. I thought the ethics of social media is a timely topic, given the debate over social media rules that has been waging now for months.
---