Biofuel
Princeton: Use Coal, LNG, Non-Food Crop Biofuel Blends as Corn Ethanol Replacement. Princeton says energy-dense slew of renewable and fossil resources could solve the nation's fuel shortages Princeton University is injecting itself into the corn ethanol debate, suggesting that the U.S. is moving in a very mistaken direction.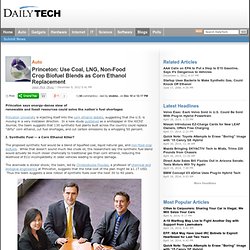 In a new study published as a whitepaper in the AIChE Journal, the team suggests that 130 synthetic fuel plants built across the country could replace "dirty" corn ethanol, cut fuel shortages, and cut carbon emissions by a whopping 50 percent. Gasoline and Diesel Retail Prices. ZeaChem completes construction of Ore. biorefinery.
サファイア・エナジー、藻類バイオマスプラントの一部稼動を開始 | 海外CSR・環境通信. 「緑の原油」(green crude)と呼ばれる藻類バイオ燃料の生産を手掛けるサファイア・エナジー(Sapphire Energy)は、ニューメキシコ州南部ルナ(Luna)郡で建設中だった藻類バイオマスプラントの一部稼動を開始した。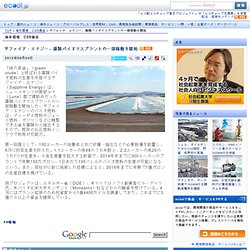 サファイア・エナジーのバイオ燃料は、ディーゼル燃料やジェット燃料・ガソリンなどに精製できる油を藻類から抽出するもので、既存の化石燃料インフラで利用が可能だ。 第一段階として、100エーカーの培養池と共に収穫・抽出などの必要設備を設置し、6月に初回生産を終えた。 1.1エーカーの池48のうち半数と、2.2エーカーの池20のうち1つが生産中。 Electricity - Data - U.S. Energy Information Administration (EIA) Find statistics on electric power plants, capacity, generation, fuel consumption, sales, prices and customers.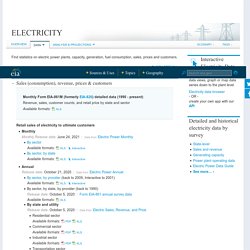 Summary Additional Formats. CARD: Historical Biodiesel Operating Margins. CARD is tracking biodiesel returns over operating costs based on a typical continuous flow plant that uses soybean oil as feedstock for biodiesel production.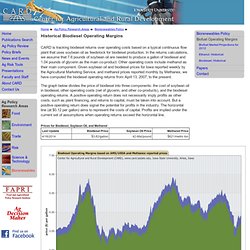 In the returns calculations, we assume that 7.6 pounds of soybean oil are needed to produce a gallon of biodiesel and 1.04 pounds of glycerin as the main co-product. Other operating costs include methanol as their main component. Given soybean oil and biodiesel prices for Iowa reported weekly by the Agricultural Marketing Service, and methanol prices reported monthly by Methanex, we have computed the biodiesel operating returns from April 13, 2007, to the present. The graph below divides the price of biodiesel into three components: the cost of soybean oil in biodiesel, other operating costs (net of glycerin, and other co-products), and the biodiesel operating returns.
A positive operating return does not necessarily imply profits as other costs, such as plant financing, and returns to capital, must be taken into account. Spot Prices for Crude Oil and Petroleum Products. Weekly Cushing, OK WTI Spot Price FOB (Dollars per Barrel) U.S. Energy Information Administration (EIA) nK-IV-4 (IEA) - Demoplants. Ethanol Market powered by Ethanol & Biofuels News. Energy Analysis - Technology and Program Market Data.
Skip navigation to main content.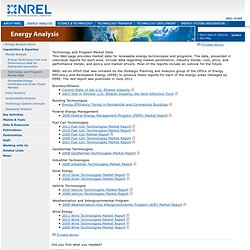 More Search Options Site Map Printable Version. Membership Information. The Jacobsen | Plans & Pricing. Benchmark We are the benchmark for the markets we serve.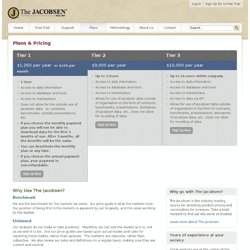 Our price guide is what the markets trust. Our position of being first in the markets is apparent by our longevity, and the value we bring to the market. Unbiased Our analysts do not trade or take positions. Global Biofuels Outlook: 2011 - 2020. Analysis and Contents This study compiles and analyzes thoroughly researched market data to provide you with a long-term view on the growing role of biofuels in worldwide gasoline and diesel markets.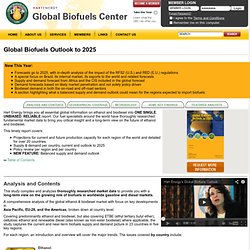 A comprehensive analysis of the global ethanol & biodiesel market with focus on key developments in Asia Pacific, EU-28, and the Americas, broken down at country level. Covering predominantly ethanol and biodiesel, but also covering ETBE (ethyl tertiary butyl ether), cellulosic ethanol and renewable diesel (also known as non-ester biodiesel) where applicable, the study captures the current and near-term biofuels supply and demand picture in 23 countries in five key regions. Market News. 2010 National Biodiesel Conference & Expo Blog. National Biodiesel Board - www.biodiesel.org - www.nbb.org. Ethanol & Biodiesel. OPIS Ethanol & Biodiesel Information Service OPIS Ethanol & Biodiesel Information Service is the only daily source that provides accurate, up-to-the minute news, pricing and analysis for buying and supplying ethanol-blended fuel and biodiesel.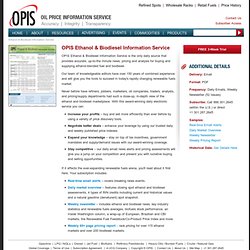 Our team of knowledgeable editors have over 150 years of combined experience and will give you the tools to succeed in today's rapidly changing renewable fuels market. Never before have refiners, jobbers, marketers, oil companies, traders, analysts, and pricing/supply departments had such a close-up, in-depth view of the ethanol and biodiesel marketplace.
Biodiesel Magazine | biodieselmagazine.com. Thousands of jobs supported by the U.S. biodiesel industry are at risk as Congress appears to have reached a legislative impasse without extending a critical tax incentive that is slated to expire on Dec. 31.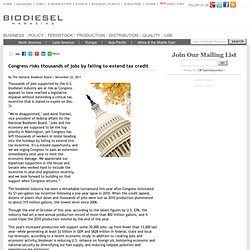 "We're disappointed," said Anne Steckel, vice president of federal affairs for the National Biodiesel Board. "Jobs and the economy are supposed to be the top priority in Washington, yet Congress has left thousands of workers in limbo heading into the holidays by failing to extend this tax incentive. It's a missed opportunity, and we are urging Congress to pass an extension immediately next year to limit the economic damage. Biodiesel Magazine | biodieselmagazine.com. By U.S.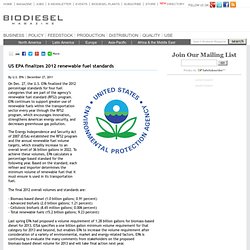 EPA | December 27, 2011 On Dec. 27, the U.S. Biodiesel Magazine | biodieselmagazine.com. 2011 is not only shattering the biodiesel industry's previous record year of 690 million gallons, but it's also proving that the mandate is truly a floor and not a ceiling. The U.S. EPA reported last Thursday that nearly 108 million gallons of biomass-based diesel was sold during the month of November, continuing a record year of production.
Biodiesel production specifically reached an all-time high of 908 million gallons through the end of November, according to annual figures compiled by the EPA. If December figures are similar to November's, then we're looking at more than a billion gallons of production in 2011. Biodiesel Magazine | biodieselmagazine.com. The U.S. Energy Information Administration released its latest Monthly Energy Review in late December. According to data featured in the review, biodiesel consumption continued to grow throughout the first nine months of 2011. The report contains data on biodiesel production, consumption, trade and stocks through September 2011.
The EIA's monthly biodiesel overview shows that production for the month of September was down slightly when compared with production levels the month prior. The administration estimates that 83 million gallons of biodiesel were produced in September. Biodiesel Magazine | biodieselmagazine.com. A report recently conducted by Santiago & Sinclair LLC, a Texas-based renewable energy consultant group with offices in Buenos Aires, Argentina, forecasted that Argentina will surpass Brazil and France in 2011 to become the third largest biodiesel producer in the world.
According to figures compiled by Santiago & Sinclair, Argentina's biodiesel production continued to rise consistently and is projected to surpass Brazil for the first time in 2011; however, the firm noted that the differences in total production will be very close. Argentina is expected to end the year with 2.4 million tons produced, versus 2.3 million tons for Brazil while French production is expected to decrease for a second consecutive year and end with less than 1.9 million tons produced. Spain and Italy are expected to show the most significant decrease in production volume, but with the greatest increases in imports, much of which come from Argentina. Biodiesel Magazine | biodieselmagazine.com. Chinese biodiesel producer Gushan Environmental Energy Ltd. recently announced its financial results for the third quarter of 2011, showing that the company's biodiesel sales volume has decreased by 94 percent since the same quarter last year.
Furthermore, the year-over-year decrease for the company is 97.6 percent. While the company has only been producing at a small fraction of last year's production level, the average selling price for the fuel it has made increased by 44.9 percent on a year-to-year basis, increasing to a price of approximately $1,062 per ton. While Gushan's other business segments, such as copper recycling, grew over the past year, Jianqiu Yu, the company's chairman and principal executive officer, noted that his company's biodiesel business has suffered due to raw materials shortages. These shortages, he said, have occurred despite a continued rebound in diesel prices and some moderation in raw material cost inflation.
RE Atlas | maps.nrel.gov.
Bio Ethanol. Bio Diesel. Renewable Drop-in Fuel from Biomass | Primus Green Energy.
---