Liste des fournisseurs
ECM - Gestion de contenu d'entreprise - EVER TEAM. Collaboration Software for the Enterprise - SharePoint 2010. SharePoint Online With Office 365, SharePoint offers enhanced security technologies, is easy to manage, and can be accessed from almost anywhere.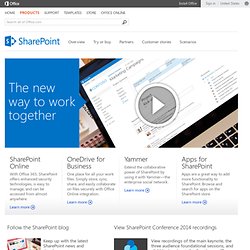 OneDrive for Business One place for all your work files. Simply store, sync, share, and easily collaborate on files securely with Office Online integration. Documentum - Content Management, Collaboration, Compliance, Records Retention. Need help immediately?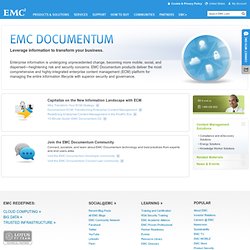 EMC Sales Specialists are standing by to answer your questions real time. Use Live Chat for fast, direct access to EMC Customer Service Professionals to resolve your support questions. Explore and compare EMC products in the EMC Store, and get a price quote from EMC or an EMC partner. We're here to help. Logiciel BPM, logiciel GED, portail collaboratif, création site web, logiciel qualité. Gestion Documentaire (GED) Open Source par Nuxeo. Plateforme Open Source Platform pour la Gestion de Contenu et la Gestion Documentaire. Infrastructure d'info. et gestion de contenu Documentum - EMC. Enterprise Content Management (ECM) - OpenText Corporation. Alfresco.
---