Do oneday
How To Build A Fireball You Can Hold&Video. DIY Macrame Bracelet. Growing up by the beach in Southern California, the ability to knot a macrame bracelet was practically a right of passage.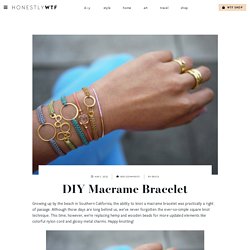 Although those days are long behind us, we've never forgotten the ever-so-simple square knot technique. This time, however, we're replacing hemp and wooden beads for more updated elements like colorful nylon cord and glossy metal charms. A Butt Exercise Worth Doing. The Bridge Burner Workout Addition. | The Healthy PUSH. - StumbleUpon. How to Shrink Jeans - Step-by-Step Guides for Offbeat DIY Projects.
Arborsmith Studios. Follow the Trend With Colorblocked Nails! Why not try it out on your nails instead?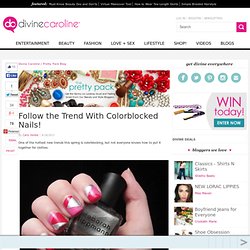 You can keep it simple within the same color family or go bold and crazy—whatever suits your mood! Step 1: Get Your Supplies Together To start, make sure you have all of your supplies handy. For this manicure, you will need three different nail polishes (make sure that at least two of them are thick enough that they can cover the base color), Scotch tape, and a fast-dry topcoat like Seche Vite. For this manicure, I used two colors from the new Minnie Mouse Collection by OPI, If You Moust You Moust and The Color of Minnie, along with my favorite silver nail polish, Stardust by Deborah Lippmann.
---