Christmas
Chocolate & Ginger... Cookies.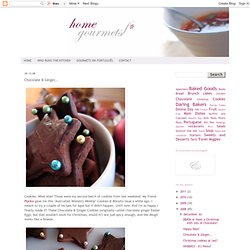 What else? Those were my second batch of cookies from last weekend. My friend Pipoka gave me this "Australian Women's Weekly" Cookies & Biscuits issue a while ago. I meant to try a couple of recipes for ages but it didn't happen. Until now. Paper-Plate Angels - Martha Stewart Holidays. Holiday Card Ornaments - Martha Stewart Holidays. Walnut Ornament. Ribbon and Bow Accessory How-tos - Martha Stewart Christmas. Floating Ornaments - Martha Stewart Holiday & Seasonal Crafts.
Gallery | Holiday cookie decorating party ideas | Photo 7 | accessatlanta.com. Date and coconut squares « Myfrenchkitchen. Winter Mint Cookies. When I made my Minty Mummy Cookies for Halloween I knew that I wanted to had to make a batch for Christmas as well.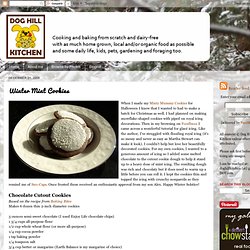 I had planned on making snowflake-shaped cookies with piped on royal icing decorations. Then in my browsing on Foodbuzz I came across a wonderful tutorial for glacé icing. Like the author, I've struggled with flooding royal icing (it's so messy and never as easy as Martha Stewart can make it look). I couldn't help but love her beautifully decorated cookies.
Bunny and Carol make...More Cookies!!! Meltaway...that's the perfect name for these little shortbread type cookies with a slight bit of frosting on them because that's what they do, melt in your mouth when you eat them.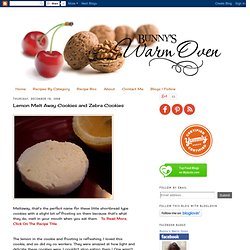 To Read More, Click On The Recipe Title. The lemon in the cookie and frosting is refreshing, I loved this cookie, and so did my co workers. They were amazed at how light and delicate these cookies were. I couldn't stop eating them ! One wasn't enough, I found myself going back to the plate popping yet another in my mouth, again and again! Cucidati! (Italian Fig Cookies) Italian Cookies – Julia Child & Nick Malgieri. Baking with Julia The Dough 4 cups all-purpose flour2/3 cup sugar1 teaspoon baking powder1 teaspoon salt8 ounces cold unsalted butter or 1/2 pound cold lard, cut into pieces4 large eggs The Filling One 12-ounce package dried Calimyrna or Mission figs1/2 cup unblanched almonds, toasted and coarsely chopped1/3 cup apricot preserves1/4 cup plump golden raisins1/4 cup candied orange peel, diced2 ounces semisweet chocolate, chopped1/4 cup dark rum1/2 teaspoon cinnamon1 large egg beaten with a pinch of salt, for egg washConfectioner's sugar, for dusting.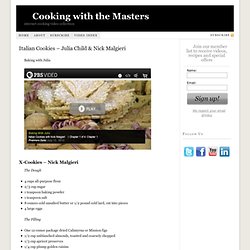 Bleeding Espresso. One of the most traditionally American foods (and one of my personal favorites) to have around the holidays are Chocolate Chip Cookies.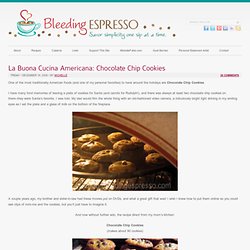 I have many fond memories of leaving a plate of cookies for Santa (and carrots for Rudolph!) , and there was always at least two chocolate chip cookies on there–they were Santa's favorite, I was told. My dad would film the whole thing with an old-fashioned video camera, a ridiculously bright light shining in my smiling eyes as I set the plate and a glass of milk on the bottom of the fireplace. A couple years ago, my brother and sister-in-law had these movies put on DVDs, and what a great gift that was!
I wish I knew how to put them online so you could see clips of mini-me and the cookies, but you'll just have to imagine it. Sara Bernard i langpanne! Nå har jeg startet med julebaksten.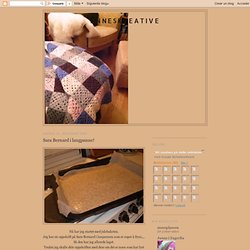 Jeg har en oppskrift på Sara Bernard i lanpannen som er super å fryse,,, Så den har jeg allerede laget. Tenkte jeg skulle dele oppskriften med dere om det er noen som har lyst til å prøve seg Mandelbunn! 400 gr mandler,,,,males. Hazelnut Thumbprints. Chocolate-Espresso Snowcaps. Dark Chocolate Whoopie Pies with Toasted Almond Cream Recipe : Alexandra Guarnaschelli. Directions Preheat oven to 375 F.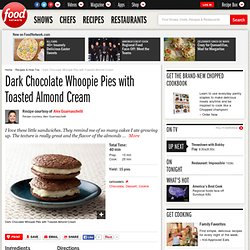 Make the pies: In a medium heatproof bowl, combine the unsweetened chocolate, semi-sweet chocolate and butter. Fill a pot (relatively the same size as the bowl) about 1/3 full with water and place it over medium heat. When the water simmers, place the bowl of chocolate and butter over the simmering water and lower the heat. Delicate Mint Sandwich Holiday Cookies Recipe : Melissa d'Arabian. Directions For the cookies: Preheat the oven to 375 degrees F.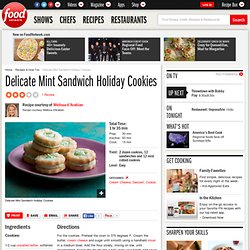 Cream the butter, cream cheese and sugar until smooth using a handheld mixer in a medium bowl. Add the flour slowly, mixing on low, until incorporated. Scoop the dough into a ball using your hands and cover with plastic wrap. Paula's Loaded Oatmeal Cookies Recipe : Paula Deen. Directions Preheat oven to 350 degrees F.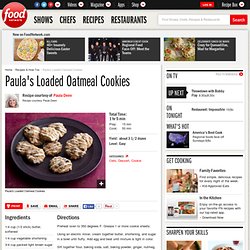 Grease 1 or more cookie sheets. Using an electric mixer, cream together butter, shortening, and sugar in a bowl until fluffy. Add egg and beat until mixture is light in color. Sift together flour, baking soda, salt, baking powder, ginger, nutmeg, cinnamon, cloves, and allspice; stir into creamed mixture. Sweet Paul's Holiday Countdown Nov 30th. I made this advent calendar for Country Living.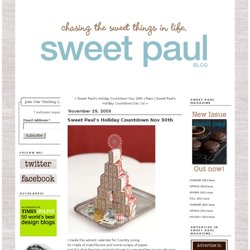 Its made of matchboxes and some scraps of paper. Just hot glue the tops of empty boxes to one another so you get rows. The bottom should be 9 and decrease by two until you have a single box.
---