cake recipes
Get flash to fully experience Pearltrees
By Danny Delicious Banana Cake! Here is a simple and delicious recipe for Banana Cake with a fantastic Cream Cheese frosting! Recipe in second part of post... Ingredients 1 stick of unsalted butter 1 cup sugar 3 eggs, separated and AT ROOM TEMPERATURE 1 cup mashed ripe bananas 2 cups cake flour 1 teaspoon baking powder 1 teaspoon baking soda 1/2 teaspoon salt 1/2 cup buttermilk 1 teaspoon vanilla extract 2 medium-size bananas 1 1/2 cups chopped pecans
To Make the Dough 1. Make sure milk is nice and warm, but not overly hot. 2. Add sugar to milk.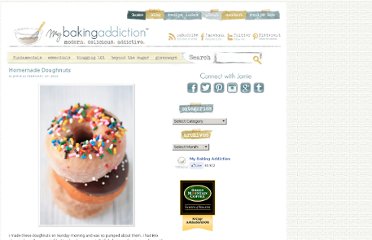 Buttermilk Cherry Cake There are cakes that are good for special occasions, like holidays and birthdays, and there are everyday cakes. Everyday cakes should be easy to make when you're in the mood to treat yourself, but they can come in all shapes, sizes and flavors. This Buttermilk Cherry Cake is just one example of a great everyday cake.
These babies have oreo's baked right into them then sprinkled all over top. I only made a half batch but they all got eaten in no time. Overall they were really good, but a bit denser than I'd expected. I think the next time I want to make Cookie's and Cream cupcakes I'll probably just add cookies to an already tried and true yellow cupcake recipe, but they were definitely still very good :) RECIPE for the cupcakes: » 1 cup (2 sticks) sweet butter, softened » 1 cup superfine sugar » 2 cups self-rising flour » 1 tsp. baking powder » 4 eggs » 1 tsp. vanilla extract » 10 crushed cream-filled chocolate cookies (I used Oreos) for the frosting: » 3 cups confectioners' sugar, sifted » 1 cup (2 sticks) sweet butter, softened » pinch of salt » 10 crushed cream-filled chocolate cookies
After trying the sponge cake recipe with much success, I was encouraged to try out the chocolate version also from the same Taiwanese lady instructor. Spongy and springy, the result didn't disappoint at all. It's great success!
It was dear Hubby's birthday two Sundays ago. As the self appointed baker in the family, it was my duty to bake him a cake to celebrate the occasion. I could have just bought one from the bakery to make things easy for myself - but nah, I wanted to try a new cake recipe! Here it was, Mango Mousse & Yoghurt Layer Cake!
2. This quantity makes enough caramel for a crème caramel to serve four to six people, or for six crème brûlées. Warm the pan gently over a medium heat for a few moments then place 6 oz (175 g) white caster sugar in the pan, still over a medium heat. Usually I recommend golden sugars but, in this instance, it's better to use white, as it is easier to see the change in colour.
Preheat oven to 325 degrees. Spray two 10-inch round cake pans with cooking spray; set aside. In the bowl of an electric mixer fitted with the paddle attachment, cream together butter and sugar until light and fluffy, 5 to 6 minutes. Add eggs, one at a time, and beat until creamy, occasionally scraping down sides of the bowl using a spatula. In a large bowl, sift together flour, baking powder, and salt.
Save to your Collections Sorry for the inconvenience! Saving is temporarily unavailable as we work through a few kinks in our new recipe design (we hope you like it!). Don't worry, your collections are safe and you'll be able to save recipes again very soon.
This is one of the easiest cakes to make, and believe it or not, also one of the yummiest banana cakes I have tasted. Everything is mixed in just one bowl and it is done, quick and simple! Even though the cake is already yummy without any extra filling or icing, but combining the cake with its classic pairing, the caramel (or butterscotch here as I'm using brown sugar instead of caramelising the sugar), and you will be in banana heaven… To go one step further, I top it with another classic combination, chocolate, by drizzling soft ganache over the cake, and it is to die for.