Art sites
Michael Komarck Illustration
josephacross.com
Jim Tierney Art
Carrie Ann Baade, MFA - Painter
Six Inside
UbiWorkshop | Welcome
every day is dragon day
Maser - Site Officiel de la bd de Frezzato aux Editions Desinge&Hugo&Cie
Dermot Power | Concept Designer
EricFortune.com - Home
●●TatoomCity●●
blackrevolver.com
thousand skies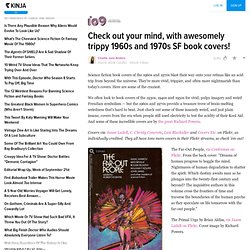 Check out your mind, with awesomely trippy 1960s and 1970s SF book covers!
@ Starwatcher : Dude, a quick review of the comment sections here will reveal that people are expressing a full spectrum of opinions, using a wide variety of language. There's just not any substantial evidence of speech being systematically censored or chilled. Even in your case, you weren't banned -- you just lost a tiny privilege, which you have the opportunity to get back at any time.
illustration by alice duke
Tycho Café
Ross McDonnell
Ballymun ( Irish : Baile Munna ) is an area on Dublin 's Northside close to Dublin Airport , Ireland . It is infamous for the Ballymun flats , which became a symbol of poverty, drugs, alienation from the state and social problems in Ireland from the 1970s. Today it is undergoing a multi-billion euro renewal, with a renovated village centre, surrounded by estates of houses and apartments, with several sub-districts such as Sillogue and Poppintree . Ballymun had a population of 22,109 at the 2006 Census. [ edit ] Amenities Today Ballymun has a wide range of amenities, from green spaces and the public Silloge Golf Course to a Tesco-anchored but very run-down shopping centre, a range of other shops and pubs and a hotel, to a public sector office development, with many branches of the city government (including a Motor Tax and Driver Licence office) and the Health Service and a very modern public leisure centre.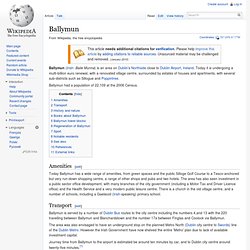 Ballymun
ad.memento | Digital Illustrations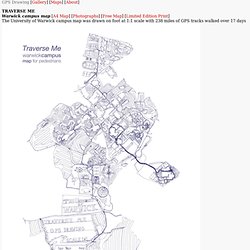 Traverse Me
GPS Drawing [ Gallery ] [ Maps ] [ About ] TRAVERSE ME Warwick campus map [ A4 Map ] [ Photographs ] [ Free Map ] [ Limited Edition Print ] The University of Warwick campus map was drawn on foot at 1:1 scale with 238 miles of GPS tracks walked over 17 days 1:5 000 Scale 20"x30" Limited Edition Prints are available for £95 from the Mead Gallery