Art sites
Michael Komarck Illustration. Josephacross.com. Jim Tierney Art. Carrie Ann Baade, MFA - Painter. Six Inside. The Art of Todd Lockwood ©2007 - Home. Every day is dragon day. Debut Art – Illustrators and Artist Agents, London. Www.claire-wendling.net. Maser - Site Officiel de la bd de Frezzato aux Editions Desinge&Hugo&Cie. Dermot Power | Concept Designer. EricFortune.com - Home. ●●TatoomCity●● Sam Spratt | Illustrator & Painter. Blackrevolver.com. Thousand skies. Check out your mind, with awesomely trippy 1960s and 1970s SF book covers! @Starwatcher: I think you're more likely to get banned for making weird personal remarks about Annalee.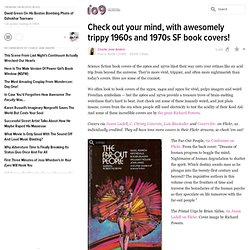 @Starwatcher: And why do you think she's the one who took your star away? @Starwatcher: Looking back, it appears you got unstarred because you thought the single-word comment "meh" was a great contribution to a conversation. We tend to expect a bit more from starred commenters than that. Illustration by alice duke. Tycho Café.
Ross McDonnell. Ballymun. Ballymun had a population of 22,109 at the 2006 Census.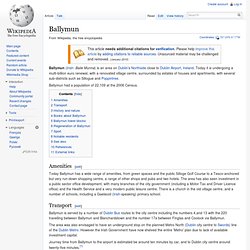 Amenities[edit] Today Ballymun has a wide range of amenities, from green spaces and the public Silloge Golf Course to a Tesco-anchored but very run-down shopping centre, a range of other shops and pubs and two hotels. The area has also seen investment in a public sector office development, with many branches of the city government (including a Motor Tax and Driver Licence office) and the Health Service and a very modern public leisure centre. There is a church in the old village centre, and a number of schools, including a Gaelscoil (Irish-speaking) primary school. Transport[edit] Ad.memento | Digital Illustrations. Traverse Me. GPS Drawing [Gallery] [Maps] [About] TRAVERSE ME Warwick campus map [A4 Map] [Photographs] [Free Map] [Limited Edition Print] The University of Warwick campus map was drawn on foot at 1:1 scale with 238 miles of GPS tracks walked over 17 days 1:5 000 Scale 20"x30" Limited Edition Prints are available for £95 from the Mead Gallery.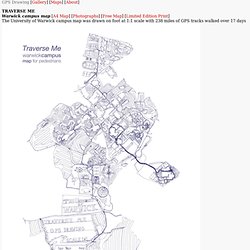 ---