Art sites
josephacross.com
Jim Tierney Art
Carrie Ann Baade, MFA - Painter
Six Inside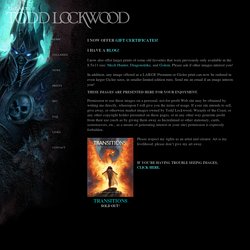 I now also offer larger prints of some old favorites that were previously only available in the 8.5x11 size: Mech Hunter, Dragonstrike, and Golem. Please ask if other images interest you! In addition, any image offered as a LARGE Premium or Giclee print can now be ordered in even larger Giclee sizes, in smaller limited edition runs. Send me an email if an image intrests you! These images are presented here for your enjoyment. Permission to use these images on a personal, not-for-profit Web site may be obtained by writing me directly, whereupon I will give you the terms of usage.
about contact should you mistake it for honesty, rusted from the elbow to the finger other impossibilities resin skull
every day is dragon day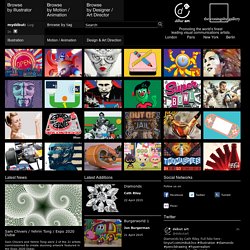 Celyn / Kew Gardens Grow Wild Campaign Celyn worked with Kew Gardens again on their £10.5m Grow Wild Scheme to bring people and communities together to sow, grow and support UK native wild flowers. The Grow Wild Scheme encourages … Read more about 'Celyn / Kew Gardens Grow Wild Campaign' Oscar Wilson / Virgin Money
Maser - Site Officiel de la bd de Frezzato aux Editions Desinge&Hugo&Cie
Dermot Power | Concept Designer
EricFortune.com - Home
Honors, Exhibitions, and Upcoming Events For Available Prints visit http://ericfortuneprints.blogspot.com/ Featured on the cover of "Hi*Fructose" magazine vol. 29 Dec - "Espionage Miami 2013" Show, Copro Gallery Aug - "20th Anniversary Show", Copro Nason Gallery, LA Mar - "Not In Kansas Anymore",Gallery Nucleus, LA Jan - "I'll Love You Til the End of the World", Roq La Rue Gallery, Seattle Illux Con 6, Allentown Art Museum Sept - "BlabShow", Copro Nason Gallery, LA Aug - "Lush Life" Show, Roq La Rue Gallery, Seattle Jul - "A Life to Leave" Solo Show, LeBasse Projects, LA May - "At The Edge" Exhibition, Allentown Art Museum Interviewed on "Schoolism" with Bobbi Chiu Interviewed on "Sidebar Nation" Nominated for "Spectrum 19" Award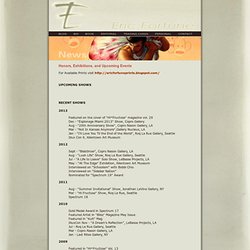 ●●TatoomCity●●
blackrevolver.com
thousand skies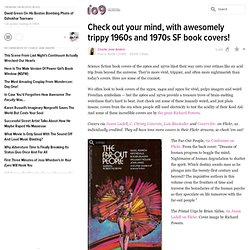 Check out your mind, with awesomely trippy 1960s and 1970s SF book covers!
Science fiction book covers of the 1960s and 1970s blast their way onto your retinas like an acid trip from beyond the universe. They're more vivid, trippier, and often more nightmarish than today's covers. Here are some of the craziest. We often look to book covers of the 1930s, 1940s and 1950s for vivid, pulpy imagery and weird Freudian symbolism — but the 1960s and 1970s provide a treasure trove of brain-melting weirdness that's hard to beat.
illustration by alice duke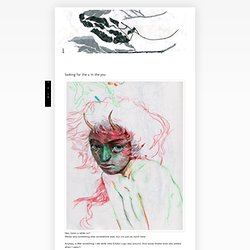 Here's a spread I made for Mundo Estranho last month, I've worked with them for a while now, and over the years it's been a learning process. The theme was "Top 10 Household Spirits" from around the world, maybe you are into some folklore and can point some of them out? Anyway, I had fun with this one. It ran smooth and objectively from start to finish with almost 100% creative freedom. I feel like perhaps I've matured a bit in the past few months in regards to commercial work, though there's always room for improvement.
Tycho Café
Ross McDonnell
Ballymun had a population of 22,109 at the 2006 Census. Amenities[edit] Today Ballymun has a wide range of amenities, from green spaces and the public Silloge Golf Course to a Tesco-anchored but very run-down shopping centre, a range of other shops and pubs and two hotels. The area has also seen investment in a public sector office development, with many branches of the city government (including a Motor Tax and Driver Licence office) and the Health Service and a very modern public leisure centre. There is a church in the old village centre, and a number of schools, including a Gaelscoil (Irish-speaking) primary school. Transport[edit]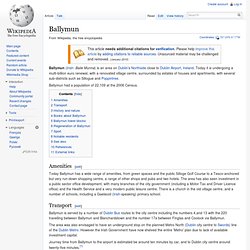 Ballymun
ad.memento | Digital Illustrations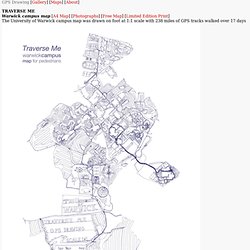 Traverse Me
GPS Drawing [Gallery] [Maps] [About] TRAVERSE ME Warwick campus map [A4 Map] [Photographs] [Free Map] [Limited Edition Print] The University of Warwick campus map was drawn on foot at 1:1 scale with 238 miles of GPS tracks walked over 17 days 1:5 000 Scale 20"x30" Limited Edition Prints are available for £95 from the Mead Gallery