UX
43 Essential Controls for Web Applications. Designing a web application?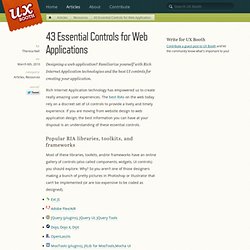 Familiarize yourself with Rich Internet Application technologies and the best UI controls for creating your application. Rich Internet Application technology has empowered us to create really amazing user experiences. BreakDOM - A remix of the classic Breakout game. So You Wanna Build a Library, Eh? The following article is an abridged version of Chapter 7 of Nathan Curtis's 2009 book, Modular Web Design published by New Riders.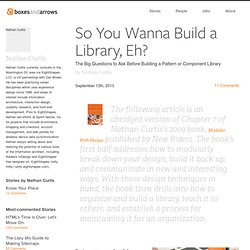 The book's first half addresses how to modularly break down your design, build it back up, and communicate in new and interesting ways. With those design techniques in hand, the book then drills into how to organize and build a library, teach it to others, and establish a process for maintaining it for an organization. Design patterns and modular components are effective techniques for designing and building long-lasting, consistent experiences. You may reach the point where you ask yourself "Is it time to build a library for our team?"
Home. Collection: Search Patterns. Patterns from IDEO. User Interface Design Pattern Library. It is important to note that the patterns are offered as proposed sets of design guidelines.
They are NOT the only solutions, strict recipes etched in stone, or a substitute for sound human-centered design practices. In our view, it is essential to select and apply the patterns critically and thoughtfully based on an understanding of the users - their level of knowledge, their discovery scenarios and goals, and their modes of information discovery. For example, some UI patterns work well for the "knowledgeable seeker" but not the "uncertain explorer. " For more information about how to effectively use the patterns, you can download Applying Endeca Search & Discovery UI Design Patterns . UI Design Pattern Library. Design Patterns | UserPlus. 509 Bandwidth Limit Exceeded. Android Interaction Design Patterns | Main Page - Social Patterns.
Design Pattern Library. View the most recent patterns added to the library.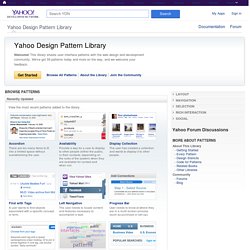 Accordion There are too many items to fit into a limited space without overwhelming the user. What Makes Them Click » Blog Archive » 100 Things You Should Know About People: #49 — The Brain Looks For Simple Patterns - Applying Psychology to Understand How People Think, Work, and Relate. What do you see when you look at the x's below?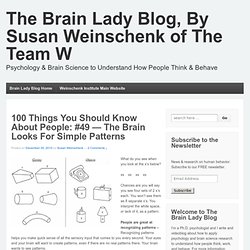 Xx xx xx xx Chances are you will say you see four sets of 2 x's each. You won't see them as 8 separate x's. You interpret the white space, or lack of it, as a pattern.
---