ICAS Festival
I.C.A.S.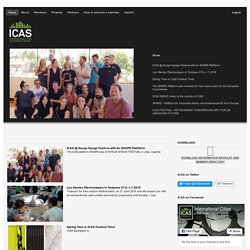 Sonica – Festival of Transitory Art, which is being organized for the fourth consecutive year by MoTA – Museum of Transitory Art, makes room for an experimental festival of audio, visual and intermedia artistic practices. Sonica changes the classical gallery space into an interactive field of events, performances, installations, workshops and lectures, with a different theme each year. This year's theme Review from Playground: 1.
ORF musikprotokoll im steirischen herbst
CYNETART Festival « I.C.A.S.
14th International Festival for Computer-Aided Art CYNETART in Dresden, 11th to 21st Nov 2010 Call for Entries for the International CYNETART competition || entry deadline 28.02.2010 TMA Hellerau hosts this international competition of CYNETART, inviting artists and art groups to present their projects, every two years.
MUTEK (AR) (Mutek Argentina) | MySpace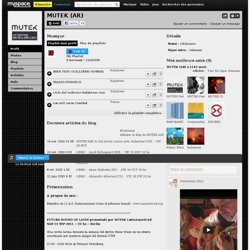 About me: Miembro de I.C.A.S. [International Cities of Advance Sound] - www.icasnetwork.org FUTURE SOUND OF LATIN presentado por MUTEK LatinAmerICAS SAB 10 SEP 2011 :: 22 hs :: Berlin
Festival Pomladi
Welcome to the 9th edition of Dis-patch Festival of Cutting-edge Music & Related Art! Once more spreading over two long weekends in mid-October, as well as over venues and streets of Serbia's capital Belgrade, we will be presenting a peculiar section through some of the most interesting works, performances and authors from the fields of contemporary music and graphic art. The tagline of this year's festival is, appropriately, ROCKET #9 - a Sun Ra motive which we identify very strongly with in 2010.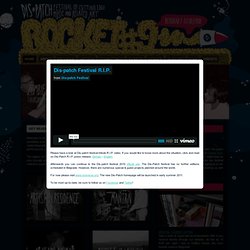 DIS-PATCH Festival of cutting-edge music and related art
Decibel International Festival of Electronic Music, Digital Art, and New Media: Sept 22 - 26
UH FEST/EST/KONCERT
Main : MUTEK.CL
MUTEK MX
Les Siestes Electroniques
Home - CIMATICS PLATFORM - Audiovisual Festival / art / media / music / technology
News Full video report of Video Vortex V We were very happy with the large amount of people attending the latest Video Vortex conference in Brussels.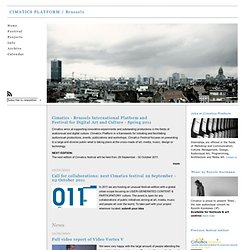 New Forms Festival
New Forms showcase @ MUTEK 2011 This year, NewForms will be curating a showcase at the MUTEK festival in Montreal. Running from June 1-5th, the festival takes place at various indoor and outdoor locations around Montreal, infusing the city with some of the worlds most interesting electronic music and media artists. The NFF showcase will feature sounds by Michael Red, Monolithium, Babe Rainbow, Calamalka, Max Ulis, Daega Sound System and visuals by Peter Hagge.This program is presented in collaboration with CBC radio 3. Nocturne 04: Beyond the Autobahn Metropolis, Savoy Room June 4, 2011 $35.00 + TX & SC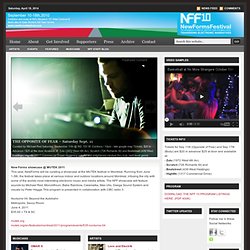 The Communikey Festival of Electronic Arts will hold its second edition on April 17th, 18th and 19th of 2009, featuring over 35 new media artists and electronic musicians that represent the forefront of the industry. Communikey events provide creative forums for the exploration of electronic music and new media arts in intimate environments, reflecting the global organism that is technology based fine-arts. The Festival hosts a 3-day contribution to these arts.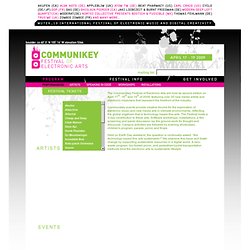 Festival of Digital Arts and Electronic Music Boulder Colorado
UNSOUND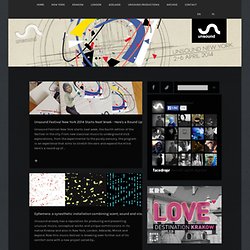 Unsound Festival New York 2014 Starts Next Week - Here's a Round Up of Shows Unsound Festival New York starts next week, the fourth edition of the festival in the city. From new classical music to underground club explorations, from the experimental to the purely sensory, the program is an experience that aims to stretch the ears and expand the mind. Here's a round up of ...
CYNETART – TMA HELLERAU
FULLPULL
Since 2006 the experimental trio Emeralds has been massaging their analog synthesizer creations into the kind of drifty, contemplative compositions that have made them one of cosmic music's most consistently compelling acts. Emeralds (US) Chelsea Wolfe (US)
Skaņu mežs
DISK/club transmediale: Current News
TodaysArt 2010
MUTEK: News
07 - LOW TECH
Retour vers le futur technologique Les manifestations artistiques qui s'intéressent aux rapports entre l'art et les technologies sont actuellement face à un paradoxe : comment prendre du recul face aux discours qui glorifient la moindre innovation technologique, dans un monde plongé dans la consommation constamment renouvelée de nouveaux gadgets ? Les RIAM ont toujours prêté une importance majeure autant à l'analyse et à la critique du rôle des technologies, qu'à la façon dont les artistes se les approprient et les détournent. S'il est indéniable qu'elles ont transformé nos vies quotidiennes, la programmation des RIAM ne s'est jamais engagée dans un enthousiasme béat vis-à-vis des nouvelles prouesses technologiques.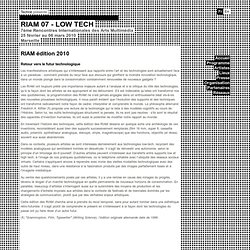 Numusic Cubed. Check out the excellent Numusic promo with motion graphics by Koala Klan, Music by Nite Sprite and images by Erik Sæter Jørgensen. Ólafur Arnalds to Open Numusic We're absolutely honoured to be able to announce that this years opening act with be Icelandic composer Ólafur Arnalds.
Numusic Festival 2010. Stavanger Norway.
Insomniafestival.no | Future music + techno culture
Rokolectiv
Dance floor wrecking hybrid 2562 is Dutch artist Dave Huismans. His live sets are characterized by a post-garage skippiness, with rolling bass and hyper-edited snares learned from broken beat, a sense of space and echo learned from dub, and a devastating 4x4 anchorage and attention to detail from techno, old and new. The result is more than the sum of its parts, an incredibly fulsome yet lean, natural-sounding, dance floor wrecking hybrid that's found favor not only among dubstep heads, but anyone drawn to fresh club music. http://www.myspace.com/2562dub