ICAS Festival
I.C.A.S.
ORF musikprotokoll im steirischen herbst
CYNETART Festival « I.C.A.S.
14th International Festival for Computer-Aided Art CYNETART in Dresden,
MUTEK (AR) (Mutek Argentina) | MySpace
Festival Pomladi
DIS-PATCH Festival of cutting-edge music and related art
Decibel International Festival of Electronic Music, Digital Art, and New Media: Sept 22 - 26
UH FEST/EST/KONCERT
Main : MUTEK.CL
MUTEK MX
Les Siestes Electroniques
Home - CIMATICS PLATFORM - Audiovisual Festival / art / media / music / technology
News Full video report of Video Vortex V We were very happy with the large amount of people attending the latest Video Vortex conference in Brussels.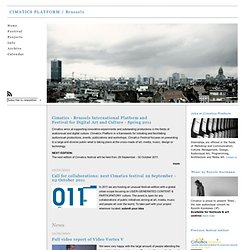 New Forms Festival
The Communikey Festival of Electronic Arts will hold its second edition on April 17th, 18th and 19th of 2009, featuring over 35 new media artists and electronic musicians that represent the forefront of the industry. Communikey events provide creative forums for the exploration of electronic music and new media arts in intimate environments, reflecting the global organism that is technology based fine-arts. The Festival hosts a 3-day contribution to these arts.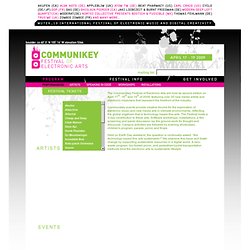 Festival of Digital Arts and Electronic Music Boulder Colorado
UNSOUND
CYNETART – TMA HELLERAU
FULLPULL
Skaņu mežs
DISK/club transmediale: Current News
TodaysArt 2010
MUTEK: News
07 - LOW TECH
Numusic Festival 2010. Stavanger Norway.
Insomniafestival.no | Future music + techno culture
Rokolectiv
Dance floor wrecking hybrid 2562 is Dutch artist Dave Huismans.