INNOVATION
Quantité non valide. Veuillez saisir une quantité de 1 ou plus. La quantité choisie excède la quantité disponible.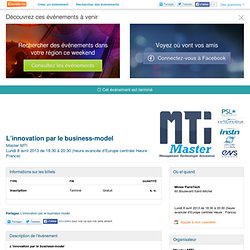 L'innovation par le business-model - Eventbrite
Innovation Barometer 2012 (launched)
Wood gasification is a proces whereby organic material is converted into a combustible gas under the influence of heat - the process reaches a temperature of 1,400 °C (2,550 °F). The first use of wood gasification dates back to 1870s, when it was used as a forerunner of natural gas for street lighting and cooking. In the 1920s, German engineer Georges Imbert developed a wood gas generator for mobile use. The gases were cleaned and dried and then fed into the vehicle's combustion engine, which barely needs to be adapted. The Imbert generator was mass produced from 1931 on.